Salter Loud Timer

Review controls
The Salter Loud Electronic Timer model 355BKKR will suit those who work in noisy kitchens or are hard of hearing and so have difficulty in hearing other timers.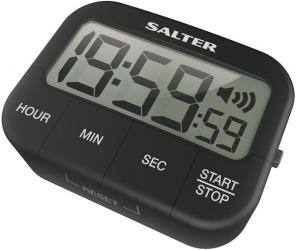 click image to enlarge
The old style mechanical kitchen timers, of which there are still plenty around, make a loud noise but are not very accurate. They have generally given way to electronic timers which are very accurate but, in many cases, are not very loud. The Salter Loud Timer, which will count up or down digitally to 19 hours, 59 minutes & 59 seconds, is both electronic and loud – but with a slide switch to enable one to select lower volume options.
Black in colour with very clear labelling in white it is 7.5 x 5.8cm with well rounded corners. It is 3cm deep and has conveniently large digits that are certainly large enough and clear enough to be read from the other side of the kitchen. It will sit comfortably on a worktop or shelf or, alternatively, the four small magnets on its rear surface allow it to stick to the outside of a fridge or other steel surface. Between the magnets there is the lift-off cover over the compartment that contains the two (supplied) AA batteries.
It can count either up or down with the hours and minutes being displayed in the 20mm characters of the LCD display. The Seconds digits are 10 mm tall. On the front of the timer below the display are the HOUR / MIN /SEC and START/STOP push buttons. These are large enough not to be "fiddly".
The count starts when the START/STOP button is pressed, and stops when it is pressed again. Press yet again and it will re-start. Pressing both the MIN and SEC buttons at the same time resets the timer to zero. On the right hand side of the unit is the 3-position slide switch with icons indicating soft, medium and loud volume settings. A loudspeaker symbol over the Seconds portion of the display also indicates the actual volume setting.
The beep sound was at a slightly high pitch than some other timers. This might be an issue for a few as, as people get older, their hearing tends to deteriorate – especially the high notes.
In practice, I tended to use the loudest setting. This was because, if I was in the kitchen, I could quickly reach over and turn it off while I would still be able to hear it if I had wandered out of the kitchen into another room. On the other hand, if one was watching TV it would make sense to use a lower setting out of consideration for others who also may be watching. When it is counting down and has reached zero the "beep" starts and lasts for 60 seconds. It does, however, seem to get a bit more frantic towards the end.
As one would expect, having counted down to zero, and sounded off, it then continues to count upwards. This tells you how much "overtime" there has been before you actually switched it off.
Available on Amazon for £14.99 the Salter Loud Electronic Timer is dearer than many other timers on the market. However, it is louder than many of them and is a convenient and easy to use kitchen timer that will meet most people's needs. It appears to be solidly built and so should last for many years so that, overall, it should be good value for money.