Tea Infuser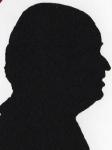 Tea used to be a very expensive substance, and a couple of centuries ago was always kept under lock and key and mixed at the table by the lady of the house, normally a mixture of green and black teas. Then half way through the last century the tea bag was invented. Even today there are still a minority who prefer leaf tea and here a device that allows leaf tea mixed in the cup with the convenience of a tea bag.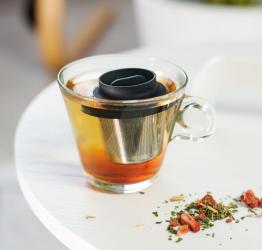 click image to enlarge
Imagine a take away coffee cup with lid and then shrink it down. The lid is rubber helping it to float and the sides and base are metal with thousands of tiny holes – like pine holes – and you have the Magisso Lippa floating tea infuser.
It is 6cm tall, circular 3cm across at the base and 4.5cm across at the top.
Unlike a tea bag this will stay upright with the silicon rubber top remaining on the top.
The tiny holes - and they are tiny – go all around the bottom and the sides so whatever tea you put into the infuser will be bigger than the holes so no danger of small bits of tea getting into the cup – or mug – that you place the infuser into.
The silicon top is interesting in that it goes over the top of the infuser and then up another 1cm then it is hollowed out by 2cm leaving a flat strip in the centre that allows a finger and thumb to go each side of the strip to lift out of the cup/mug without the risk of a burn to your fingers.
A firm pull on the silicon will allow you to remove the lid to empty out the tea leaves.
The infuser is stainless steel and as anyone who has used any teapot - either metal of porcelain -will know it will stain. However when washed up during my test period this remained without stains.
An illustration on the box shows the infuser with lid being turned upside down on the table and the design of the lip catches any drips so nothing spills onto the table.
Currently it is not actually available in UK.
I have been informed that the Magisso Lippa has won a Good Desisn award.
https://www.good-designawards.com/award-details.html?award=33399
The Magisso Lippa should be available very soon from the first link below for around 15 (Euros)