Snips Food Boxes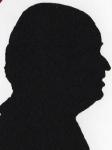 This is one supplier who kept their promise to send samples of their items for me to review from my visit to the annual Housewares show in London. So here a microwave rice steamer and a larger than normal storage box with or without inset basket.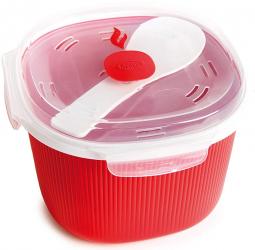 click image to enlarge
TimeZero Microwave Steamer
It is 14cm tall and almost square at 20cm wide it weighs 315 grams.
The attached cardboard wrapper describes this as a 2.7 litre rice and grain cooker suitable for up to four people.
The receipt book inside the container goes into detail about fish and chicken dishes as well but they seem to be for other items in the same range.
Looking closely at the impressed characters on the base of the container has it suitable to use up to 140 degrees Celsius and as low as -18 degrees Celsius.
The container has two lids the first has a warning imprinted into the lid in eleven languages saying do not cook rice without water or it may be damaged. There are eight vents a pair down each long edge of the container.
There are similar vents in the corners of the top lid which clips onto the four sides of the container causing steam to gather between the two lids and this aids cooking.
One such receipt from the booklet is rice with peas using 250 grams rice, 500 grams of water and 200 grams of peas, this I tested and it works fine.
Also in the package is a 19cm long and 6cm wide at one end spatula this has a place in between the two lids when not in use.
Other receipts are rice with rocket, lime prawns and avocado and another with Spelt with Feta cheese, cherry tomatoes olives and mint. A range of microwave times and temperatures are also included.
The TimeZero steamer is available from Amazon for £15.99 including free delivery.
Aroma Fruit Keeper
This can be used with or without the inner basket, with the basket in place air can circulate round the fruit but it is airtight so there is no contamination with other items in the fridge.
It is 10.5cm tall, 28cm long and 20cm wide the total weight with basket is 423grams.
The container is clear Perspex and said to contain 4 litres; it has a clear lid with fold over rubberised edges meaning you get a snug fit when attached.
The basket also fits snugly but has cut out sections to all the sides and base apart from the top 2.5cm.
There is a single sheet of paper cut to fit snugly in the base of the basket showing a selection of grapes, blueberries, blackberries, strawberries and apricots and saying, airtight closure, removable basket, ideal for fridge and preserves food longer as it allows air circulations.
I have tested this with a range of fresh small fruit and providing they are in good condition when placed in the container they do last longer than those in a paper bag.
The Aroma Fruit Keeper is available from Stuff for the Kitchen for £7.60
The full range of Snips products is available on their Italian web site.
http://www.snips.it/