Trinity Xtras Items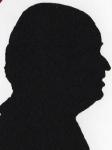 First a portable – very portable – rechargeable reading light and from a company that does reading lights, this is tiny. Second a candle made of wax that has a light but no flame and as there is no flame then importantly no danger of fire.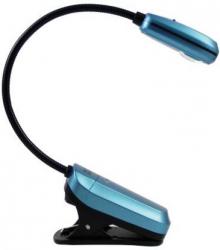 click image to enlarge
Recharge LED Booklight
A 25cm long rubber coated strip that can be bent to any angle. One end has two LEDs in the underside, the other end has a crocodile type clip and just behind this an on/off button. The first 18cm are 1cm wide and the last 7cm are 2.5cm wide.
Attach to any book and you have nice even light that is sharp and crisp and yet not hard on the eyes.
The crocodile clip can extend to 2cm.
The on/off switch has on, lower intensity on and off so from on its two pushes to get to off.
I also found it useful in a confined space where it can be clipped to something or even yourself when you need a third hand.
The stated time between charges is 13 hours but this of course depends on which light intensity level you choose. A flat micro USB to USB lead is provided to recharge it, from total discharge it takes an hour for a full charge. You get a warning at 90% discharged.
The two light intensities are 13lumens and 8lumens.
The Recharge LED Booklight is available from the link below for £13.50. I see it is available in black, blue, pink, silver, purple and green.
http://www.trinityxtras.co.uk/book-lights/16-mighty-bright-miniflex-led-book-light.html
Advantage Flame Replicating Candle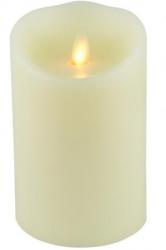 click image to enlarge
It is made of wax but has no wick, it is powered by batteries and has a small plastic strip of a balance that moves slightly in any air movement and as the bulb is under this the flickering of the flame looks extremely realistic. However if there is no air movement the flame still appears to flicker as there is a tiny electromagnetic at the base of the plastic strip to induce tiny movements in the strip and so give the flickering effect.
It is 9cm across and between 12 and 14cm tall making it look like one side has burnt down more than the other and it should fit most appropriately sized candle holders. It looks great just sat on a table.
It is powered by two 'D' cell batteries that fit in the base and add to the stability of the candle which weights a fraction under 600grams.
There is on the base beside the battery bay a three way switch off-on-timer.
The timer mode will switch the unit off after five hours and then remain off – unless switched on – for nineteen hours when it will repeat the cycle.
You can also if you wish purchase a remote control to turn the unit on/off when required, this I can only see a use for when the candle is placed in an inaccessible area.
The xtralite Advantage flame replicating candle can be purchased from the link below for £27.99. This is for the 14cm model they also do 18 and 23cm versions at higher prices. I had the normal creamy white colour but I see red and green are also available. Should you want the remote it is £5.99.
http://www.trinityxtras.co.uk/home/248-advantage-led-candle-cream.html
The TrinityXtras site has a whole range of lighting and stationery items available.