FrancisFrancis X6 Trio ESE espresso coffee machine

Published Nov 5, 2007 Author
petew
Review controls
In our continuing series reviewing the world of home coffee machines we're taking a look at a stylish espresso machine from Illycaffè.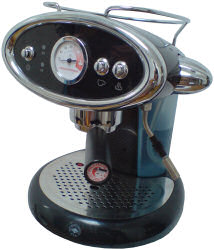 We've now covered a wide range of coffee machines - now is the turn of the FransisFrancis X6 Trio - designed by Italian architect Luca Trazzi for illy.
This machine makes use of standard ESE coffee PODS. ESE standards for 'Easy Server Espresso'. Each pod is very similar to a tea-bag - except hard. Each pod contains compressed coffee between tow pieces of filter paper. Each pod is suitable for a single cup and are available from a number of companies. Checking in our local super market, a pack of 18 pods costs around £2.20. Put another way that's 12p per cup that compares very favourably with proprietary systems such as the Braun Tassimo at around 19p per cup.
You can of course pay more for - Illys own brand ESE pods come in nice tins and cost around £8 for 18 - putting the price up to 44p per cup. Luckily each X6 machine comes with a tin of 18 pods so you can compare with other brands and decode whether your taste buds justify the additional expense over generic own-brand pods.
Unlike other ESE pod machines the FrancisFrancis does not take ground coffee - this is a pod only machine!
This machine is available in red, black or white finishes - all of which have chrome trim. The rail on top of the machine can be used to warm cups - recommended before making your espresso.
The water container is round the back of the central column and holds 1.2l. There is no water filter option so once again you'll either face periodic de-scaling, or filter your water with a separate jug before use to remove lime scale.
The control panel is pretty straightforward and clearly marked. On the left is a power button, then a central temperature dial indicating when water has reached the appropriate level for either brewing coffee or making steam. To the right of this are two marked buttons - coffee and steam.
Pressing the coffee button starts the heater bringing the water to the appropriate temperature for making coffee, which is a little under boiling. Press the steam button and the water is super heated beyond boiling ready to froth your milk.
One really annoying habit this machine has, which is shared by a number of 'clever' household appliances these days is a propensity to BEEP - annoyingly - for various reasons. All of them annoying. This is something that I really don't want or need thank you very much!
Coffee preparation is straightforward - slip an ESE pod into the holder and scren into the holder. The machine is capable of three distinct styles (hence 'trio' in it's name) : short (ristretto), normal(espresso) and long (espresso lungo). You choose which you want by how far your turn the pod-holder/filter into the pump.
The X6 is equipped with an 18 bar pump - one of the most powerful of the machines we've reviewed.
I should say a word or two about the coffee produced. I only tried this with the Illy pods included with the product - but the results were very good.

The cup stand is removable covering the drip-tray, which contains a red float you can see when you need to empty.
The price for the FrancisFrancis X6 TRIO is around £250 - and so is up toward the top end for this kind of espresso machine. The ESE system, while simple, does limit your choice of coffee, and can be expensive. I'd have preferred an option to use ground coffee, as provided by the less expensive Kenwood Retro recently reviewed that supports both ESE pods and ground coffee. The finish on the FrancisFrancis product is slightly higher quality - but probably not to the extent reflected in the price.