Braun Tassimo - Fantassimo coffee!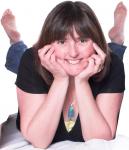 Review controls
Gadgetspeak drinks from the cup of the UK's most popular coffee machine. Compact and easy to use, winner of Product of the Year 2007, as voted in a survey of 10,000 households
Buy Now
Braun Tassimo
Silver : £79.97
Black : £99.99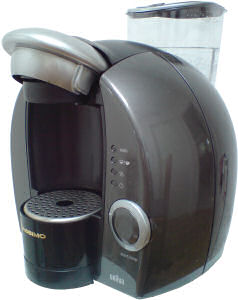 Now isn't coffee such a personal thing, and choosing the right coffee machine comes down to just how much of an aficionado you are and how much time you have on your hands. Here at GadgetSpeak we will be testing some of the best selling and newest coffee machines so that you don't have to! In the first of a series we have road tested the Braun Tassimo, winner of the Product of the Year 2007 (the UK's largest independent consumer vote on product innovation).
The Tassimo is a neat and compact machine which offers a real coffee taste with a very small amount of fuss. It fits neatly into a corner (dimensions 32cm High, 25cm Wide, 28cm Deep). The style and lovely rounded edges give a slight feminine feel to an otherwise masculine looking product.
Ease of use is a pure positive on this machine. I just love easy machines. With the Tassimo you fill up the water tank, pop your cup in place, slot a one cup cartridge in the top, push it down and press the button on the front of the machine! Simple! I just love simple!
There is a short wait whilst the water starts to heat, and then about 45 seconds later the coffee is poured and ready for you to add milk and sugar (most likely quicker to do than boiling a kettle). The temperature is drinkable almost straight away. This I also love. Ever been to one of those well known coffee shops and found your drink so hot, that half an hour into your lunch break you are still waiting for it to cool down? Not a problem with the Tassimo!
With all of these types of machine taste is limited to the capsules made for it. However, teaming up with Kenco for coffee, Twinnings for tea and Suchard for Hot Chocolate is a very clever move. These are undoubtedly some of the UK's most favourite hot drinks brands. The hot chocolate, in particular is unbeatable. There are six types of Kenco coffee (of varying strength including Espresso, Cappuccino and Decaffeinated), Twinnings Breakfast Tea and Suchard Hot Chocolate - available at many supermarkets. Additionally you can get 3 specialist Twinnings herb teas available on-line at www.tassimo.co.uk .
The water tank holds around 1.75L of water. As an added bonus, for those in hard water areas, you can optionally add a filter to remove lime scale as the water leaves the tank. Each cup is 150mL - an average sized cup or about half a coffee mug. That's a little small for me, but you can top up the hot water. So you should get at least 10 small mugs of coffee from a tank.
Now to the cost. The Tassimo is £99.99 for the silver and black version. The newest colour wave, graphite and black is available in various stores from October at £119.99. However, it doesn't stop there, as you have to factor in the cost of capsules. At £2.99 for a pack of 16 coffee capsules, that's 19p a cup. Cappuccino is more expensive because you need a coffee and concentrated milk capsule. Cappuccino comes in packs making 9 cups for £2.99 - 33p a cup. I did think of spooning out my instant jar to work out how much a cup of instant costs as a comparison. But then I thought, life is too short, and anyone buying this type of machine is going to be putting convenience and flavour at the top of their buying criteria.
Over the coming weeks, we will be looking at other leading brands of coffee machines. So come back often to see our latest reviews! Or you can use the search bar, or related articles box, to see coffee machines already reviewed.
Whilst the RRP is £99.99, at the time of writing you can get the Tassimo from Amazon at £79.97