Kodak Hero 7.1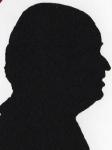 Review controls
The latest range of Kodak All In One devices, USB and Wireless and software that can do more than the average software package. Here I am looking at the basic All In One offering units cost less than they did and ink is cheaper as tanks are larger.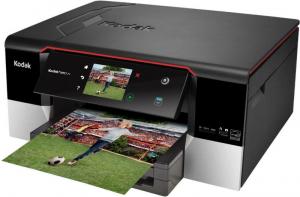 click image to enlarge
The Kodak Hero 7.1 All-In-One printer measures 45x41x19cm, all black and rather boxy, certainly not something to please the lounge police but it can be USB or Wireless and of course the latter means it can live out of sight in a cupboard or maybe behind a settee.
The right of the rear has the DC and USB sockets, this is a touchscreen unit and the only control outside the touchscreen is the on/off button to the right of the 7x5cm TFT, near the right front edge is a multi card port and a USB stick socket.
I used this device wirelessly, setup was straightforward and just a matter of following prompts, it failed to automatically find my routers auto connect but it was easy to go back one stage and enter the passcode from it.
It has a novel way of handling scanning, as most will know most All In One devices can only print wirelessly this solves the problem by scanning either to JPG or PDF (single or multi page) by scanning direct to a USB stick.
The TFT is clear when displaying images from cards or USB sticks, the screen has clear concise choices when making selections, everything is well laid out and easy to follow, want to change something, easy, just tap it.
Printing either from the PC or direct at the unit was a delight, as always I used the draft mode to ascertain speeds. The nonsensical 200 word document printed at 20PPM, the more normal 1500 word offering spread over four pages printed at 16PPM, both were clear sharp and only had the slightest tinge of grey in non bold characters.
Photo printing was quite acceptable but it was easier to print multiple images on a single sheet from the PC rather than direct. The unit has two trays upper is for 15x10cm printing and everything else is from the lower tray. Unlike a recent printer from another manufacturer this unit happily fed A4 photo paper from the bottom tray.
Copying is normally the only job done from the All In One, a colour copy takes a tad over 30 seconds while the same page in monochrome takes 20 seconds.
Using USB you can scan from the PC or direct to a USB stick, using wireless you only have the latter option. Scanning an A4 photo to PDF or .JPG takes 70seconds and scanning a document A4 page takes 35 seconds both options have the normal range of choices and all done on the unit, nothing dumb about this All In One unit.
The AIO Home Centre on the PC is a lovely piece of software and if you need help you will find it here but if you know what you want it does not patronise and lets you just make choices, the options on the photo improvement go far beyond the normal red eye removal.
When Kodak first started producing printers they were phone to paper jams with this unit even though I used a whole range of styles and weights of paper mixed I never had one. They were also rather noisy not so this one. They used to be rather more expensive than the competition, there one saving grace was that their ink was cheaper, now the cost of the units is somewhat less and their ink is still cheaper.
This is a six ink two cartridge solution so the only minus point is that you might be throwing away some ink if you use one colour more than the others.
Doing my Internet searches found the Kodak Hero 7.1 at a best price of £152.77 with free delivery.
http://www.amazon.co.uk/gp/product/B005J3ID4S?ie=UTF8&tag=gadge0a-21&linkCode=as2&camp=1634
http://shop.kodak.co.uk/store/ekconseu/en_GB/pd/HERO_7.1_All-in-One_Printer/productID.235648900