Crock Pot Countdown Slow Cooker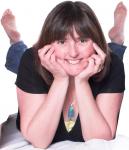 Review controls
Think fast and easy food preparation, and then leave the slow cooker to it's own devices for tender and tasty food just when you need it.
Buy Now
Crock-Pot SCC600-IUK
only £39.95 from John Lewis

New Recipes for Your Slo-cooker
£6.74 from Amazon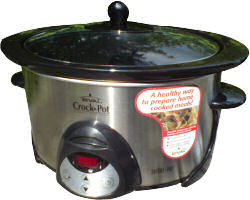 I've been extremely lucky in reviewing products I like recently. And with Gadgetspeak concentrating on kitchens this month, it was a pleasure to test the Crock Pot Countdown slow cooker on my unsuspecting family - who were actually hoping I'd get around to the Chocolate Cocktail Maker (more on this later).

What a breeze it was to use this slow cooker. Just pop the raw ingredients into the stoneware crock pot, put the lid on, choose slow or super slow mode (temperature setting I and II), set the timer and walk away. It really is that simple. So tonight's meal was prepared in, oh, around 5 minutes. Then it cooked merrily away whilst we had a game of rounders at the park, and later walked into a home smelling of lovely home-cooked food.
You can make just about any one-pot meal in this slow cooker - so think casserole - and you'll have your recipes lined up. The meal I prepared was delicious. The slow cooking method meant the food was very tender with flavours that had been allowed to develop over the cooking time.
Choosing one of the two temperature settings seems to come down to how long you think you might want to leave between preparing your food and eating it. Temperature setting II cooks meals in around 4-6 hours, whilst the lower setting I takes around 8-10 hours. So if you want to prepare something in the morning to eat after work, then the lower setting will prove best. Or if you prepare the evening meal in your lunch break go for the higher temperature. Either way, the Rival Smart-Pot has a keep warm facility which keeps your food warm without further cooking for another 4 hours. This is really great - because there's no having to rush to be back 'before the beep'.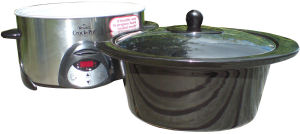 The Crock Pot looks stylish, with chrome finish, black stoneware pot and glass lid. The stoneware pot lifts out of the heating unit by handles on the sides - so you could take straight to the table for people to serve themselves. The pot gets very hot, so food would stay warm in there for quite a while. Because it is so hot, you do have to be careful not to put cold water straight into it when hot, as there is a danger of cracking. But this would apply to any similar stoneware pot.
I tested the 6.5 Litre programmable pot . It is actually quite huge! Designed to cater for up to 6 people, my meal for 4 didn't barely even fill half the pot! So I would say you could cater for up to 8 or 10 people with this larger version. The non-programmable versions also come in a 3.5 litre version.
There are cooking guidelines given with the instructions, as there are a few little things to get used to, such as not needing so much liquid, as none gets boiled away in the cooking. Not complicated, but best to read the manual in any case. Although there aren't many recipes with the cooker, it does give you a comprehensive guide on how to adapt standard recipes.
Another beautiful aspect of this product is that it's very easy to clean. It has a Rinse Clean System (tm), according to the press release. I don't really know what this is, but it was indeed easy to clean - with food slipping off the surface. Also unlike oven cooking, the the food doesn't burn onto the sides.
I can think of lots of good things to say about this type of cooking. It's healthy, you can put lots of veggies in and they won't go soggy. It's easy. It take very little time to prepare. It keeps food warm until you are ready for it. Although I couldn't find the scientific back-up to this, I believe they take less electricity than an oven! And in a nutshell, you can come home from a busy day at work, or out with the kids, and find your food just waiting there to be served up. Bliss!! I do love reviewing kitchen gadgets!
The Crock Pot Countdown Slow Cooker is available from John Lewis at £39.95

For recipes Amazon is obviously a good place to look - for example new Recipes for Your Slo-Cooker by Annette Yates