Revo Pico+ DAB Radio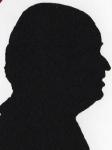 This is not just another DAB radio. It is small and neat and for good measure it can record onto SD card, not just at the time of playing but up to around 30 minutes after playing.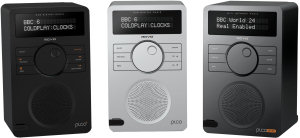 It is 16.5cm tall and 10cm wide and deep. Mine was black but I know they also do white should that be more suitable for your colour scheme. It has a seven piece (55cm) rod aerial.
On first switch on you need to make sure that the aerial is extended and then press the scan button, mine found 51 DAB stations in around a minute.
The controls are six push buttons and a large wheel whose job changes dependant on which button you press. Above these is a 7x2cm two line display. The default setting is to display which station you are listening to on the top line and the current time and date on the bottom line, however there are six other options all available via a toggle.
The user guide is ok but it is less good at telling you how long between charges and it fails to mention at all the recharge time. It does state 'up to 12 hours' but as we all know DAB is heavier on power drain than FM. I consistently got more than 9 hours between charges on DAB and of course this was better when using FM. As for recharges I was told four hours apart from the first one or when it has not been used for a long time when you should double the time.
There are five presets available on both DAB and FM (a lot less than some) but how many can say they listen normally to more than five stations on FM after all scrolling through DAB stations is quick and easy, with FM you need to remember the frequency and even if the search can start at both the top and bottom of the wave band it can take time even using the large wheel.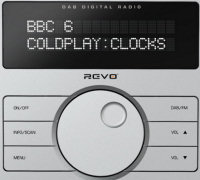 Setting a preset requires you to use the supplied small remote control using a supplied watch/clock battery. So don't lose the remote.
The ability to replay and or record something that has taken place up to around 30 minutes before is not unique but you will be hard pressed to find more than a handful of units with the ability. In fact on my favourite station it's around 43 minutes as it broadcasts at 96kbps (some use 128mbps), just rewind using the function and << buttons using the clock showing how far back up to the limit you have travelled. Then should you wish you can record in MP2 (not a misprint I meant MP2) format by pressing the function and record buttons, once you have captured whatever you want press the function and record buttons again. To do the recording you need to place an SD/MMC card in the slot in the rear behind a rubber bung that also houses the USB connector, stereo line out sockets, earbud socket and the DC adapter. MP2 can be replayed on the unit and also through Windows but you will probably need to convert to MP3 to play the tracks on an MP3 player, the file sizes are almost the same.
Should you wish you use the only front mounted socket (again behind a rubber bung) attach a MP3 player to use the excellent internal speaker. I have mentioned rubber bungs a couple of times and while you should not think of the Pico+ as waterproof it will withstand splashes without problem, so you should be able to use it - on battery power of course - in a bathroom.
So what is it not, it's not an alarm and it's not a sleep timer something that a lot of recent DAB/FM offerings are. However remember this has that great ability to go back in time so when the phone goes or the doorbell rings you can deal with it without missing a minute of what you are listening to.
I really liked this unit, it's easy to use - apart from needing the remote to set presets - has good sound quality and or course it records and replays. This is a quality unit the main down point is the price! Doing my Internet searches found the Revo Pico+ at a best price of £99.99, including delivery, from the second link below.
http://www.revo.co.uk/digital-radio/revo-pico-plus.php
http://www.amazon.co.uk/gp/product/B000MV7Y1U