Roberts Revival Mini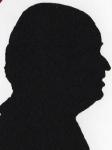 A new DAB and FM offering from Roberts that looks more like something from many decades ago. It is however packed with modern technology, so instead of having to continually move around to get a good signal and sound it's just there.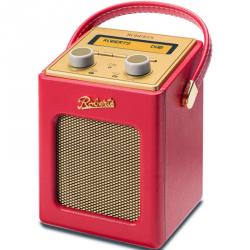 click image to enlarge
It is 17x12cm at the back and 15x12cm at the front and 12cm deep. The front has a grill behind which is the speaker this is 9.5x8.5cm. Both sides are clear with only a connection point for carry handle that is in the same fabric that covers the whole unit, my unit was in a lime green colour. The exceptions are the back that is a gold colour as is the top.
The back has a battery bay which optionally takes 4 x 'AA' batteries. Above this the eight piece 72cm tall rod aerial - also in gold colour - and a line of four sockets. USB (service only), Auxiliary Input, Headphone Output and finally DC Input a 1.7metre lead to 13amp plug provided.
The sloping front has an 8x2cm two line display; this is backlit in an orange colour with black lettering. In front of this five well marked rod push buttons and finally towards the front two knobs on/off volume and tuning. Between these two buttons is an LED to show charging or low battery for the batteries if inserted assuming you use rechargeable.
On first switch on it goes into a tune mode for DAB stations and it found 67 in my area. It defaults to the first found.
The first button switches between DAB and FM. The second button is auto tune where a single press will move to the next station found starting at the lower end of the FM spectrum. You can manually tune in .5 increments using the right button. The third button is Favourite and this allows one DAB and one FM station to be tuned immediately on switch on. The forth is Info which has up to seven options for the second line of the display. The last button is Presets which are set by a press of the Preset button for a few seconds. Once in Favourite mode the second button just circles through favourites rather than them being assigned to a number or combination of button presses.
As regular readers will know I am 'old' and I worked all this out without recourse to the 32 page A5 manual. This is a nice read with plenty of illustrations for anything you are unsure of.
One feature which few DAB radios have is 'Prune' and this allows you to remove stations that are permanently off air or those you know you will not ever want.
If you run on batteries you should get around 20 hours of listening using alkaline 1.5volt batteries, this will be less if you use rechargeable 1.2volt batteries.
I was surprised to find that the output from the 75mm loudspeaker was only 1watt, it sounded more. You can of course listen in stereo if you use headphones from the 3.5mm socket.
I liked this retro look radio and having the ability to charge batteries means that it is happy to be moved around even to places without power nearby.
The Roberts Revival Mini is available from the link below for prices between £120 and £130 according to colour choice, all have free delivery.
http://www.amazon.co.uk/gp/product/B008RVKO4Q?ie=UTF8&tag=gadge0a-21&linkCode=as2&camp=1634