Roberts Stream 207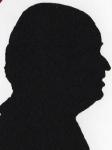 This is a DAB/FM/Internet radio that works via Wi-Fi and can be used as an input or output as well as having Spotify built in. It can be run off batteries which can be rechargeable and even off a battery pack for when mains power is not available.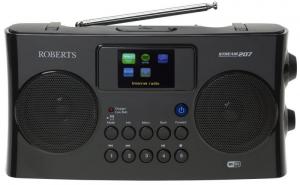 click image to enlarge
The Roberts Radio Stream 207 radio measures 29x13.5x6cm; this figure is without the seven piece rod aerial extended which can add 66cm to the middle figure. The case is made of black plastic which does show fingermarks and rubber buttons that do not.
The front has a 7cm circular speaker on each side the 8.5x4cm with 8 line colour display in between them and two lines of five well marked buttons towards the bass, just above these are a charge button (for batteries) and on/standby button on the other edge.
The left side has four well marked connections (power, headphones, line out and aux in) all colour coded. The right side has two large knobs, the top select and the lower volume.
The top has a rubber bung below which is a USB input, behind this a lift able handle and inside this the rod aerial. The base has four tiny rubber feet and this leaves the back that has the battery bay that takes a proprietary battery pack or six 'C' cell batteries.
There are a total of fifteen presets, five each for DAB, FM and Internet, all are a single button press away. If power is removed then time is lost as is the WPS Wi-Fi so if you do not use batteries as a backup the two alarms will not function in this instance. Strangely my selection of Internet radio station and all other presets were retained even when power was removed for a day.
The speakers are only 1watt but I found they gave a pleasant sound and plenty of it.
In these days of multi-language or even no manual I applaud Roberts for including a 108 page A5 manual.
For those who want a remote control an App is available for both iPhone and Android.
With the aerial raised it found close to 100 DAB stations and the selection of FM was made without static and this only cut in if you misentered the frequency and in my case all the stations I choose changed to the name an station logo. As far as the Internet is concerned you can choose from thousands of stations all just a few clicks away either by country or genre.
If you use Windows 'Play to' this unit is a UPnP rendered.
For media stored on a USB stick it has the ability to read MP3, WMA, AAC, WAV and FLAC.
I mentioned the two alarms there is also a sleep timer that can be 15 to 90 minutes.
While I was happy with the sound and range of inputs I think for that little extra a built in battery pack in the price would give security from power cuts or someone inadvertently removing the lead from either the side of the unit or the plug from the socket.
This is a quality radio and for just a bit more it could be an excellent unit.
The Roberts Stream 207 is available from the link below for £150 with free delivery.
http://www.amazon.co.uk/gp/product/B008V79EC4?ie=UTF8&tag=gadge0a-21&linkCode=as2&camp=1634