Bosch PTK 3,6LI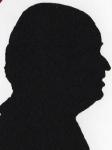 I have come across some non descriptive names before but the one above tells me only one thing, it's from Bosch. It is a tool for tacking things to things most normally a fabric, plastic or paper to a solid surface such as wood.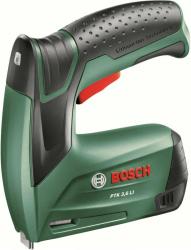 click image to enlarge
My mind immediately thinks of things of a temporary nature such as for an amateur play or for Christmas or such other event lasting for a few days. However I have used this around my home and garage and shed and everything I have tacked has stayed tacked and I suspect that the fabric, plastic or paper will decay before the tacking.
In effect this is a stapler with 'guts'. It is 15cm tall and 15cm deep while it is 4cm wide; it is an overall 'n' shape.
The handle grip is the left upright with a trigger towards the top and the staples emerge from the top of the right upright where it joins the top of the unit. The staples themselves are fed upwards from the bottom of the upright.
With an object like this weight is vital as you will probably use it in a lot of non health and safety positions. It is 740grams, not light but heavy enough to deliver that punch needed to insert the staple into whatever surface.
It has a solid battery and the recharge point is at the base of the left upright. Staplers are inserted at the base of the right upright with the slide pulling out with the aid of a rubberised grip. The staples themselves come in a strip just like paper staples except they are a little bigger and in size and certainly more substantial in content.
The staples themselves are something called a type 53. They are 8mm deep and 11.4mm across, you get 1000 in the box.
The DC power is input via a 1.5metre long lead ending in a 13amp plug head which is also the power adapter.
Pages 19 to 31 of this 15 language 'Original Instructions' booklet are in English. Most of the language is more understandable than 'Original Instructions' I assure you.
Just above the trigger is the units only indicator an LED that can be red or green. The red comes on when there is less than 30% of charge left. During charging it flashes green during charging this changes to solid green when fully charged and stays in that condition until there is less than 30% charge available when it turns red.
This product is designed to do one job – which it does well – and as such becomes a less inviting buy for the home user. However should you have a need for such a product then it does what it does very efficiently, so no need to try and make a drawing pin hold a weight far higher than it was designed for. Also a staple is far less likely to do damage to decoration than a panel pin or dare I say a nail, not least the added depth may do damage to pipes or cables.
The Bosch PTK 3,6LI is available from the first link below for £47.49 with free delivery.
http://www.amazon.co.uk/gp/product/B007R9FAFC?ie=UTF8&tag=gadge0a-21&linkCode=as2&camp=1634
While the UK Bosch site does not have this product listed the link above calls it more logically Bosch PTK3.6LI (I looked under both names as well as tackers) it does have a lot of handy DIY tips that can save time and money and well worth a look even if you do not currently have any Bosch items.
http://www.bosch-do-it.co.uk/boptocs2-uk/DIY/Tools/GB/en/hw/Cordless+Tacker/95235/PTK+3%2C6+LI/28381/3165140601610