Bosch's Portable Work Bench

Not everyone has a workbench -- and even those who do, will often find that having a portable one is a great convenience. The Bosch PWB600 portable work bench is a solidly build unit that is both easy to erect and to fold up again for easy transport and storage.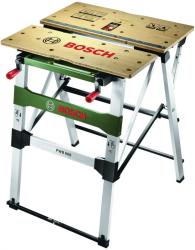 click image to enlarge
Mainly constructed from aluminium box section extrusions and with a 15mm bamboo block board top it gives the impression that it has been designed for solid everyday usage rather than for just being used once or twice and then being relegated to a forgotten corner the garage. This view is underlined by the fact that, even though there is a warning not to stand on it, the marked load bearing capacity is 200kg i.e. 440lbs.
It is a simple task to erect and use safely as it is obvious when the legs and stays have not locked firmly into position. Similarly, it is a straightforward matter to collapse the workbench by pressing the release catches in the front legs and operate the one recessed into the worktop. Once collapsed the space it takes is 68cm wide by 84cm high and 10cm thick. It weighs about 12kg and is easy to carry with one hand and does not take up an excessive amount of storage space.
Having a working height of 83cm, its worktop is 68cm wide by 55cm. This top is in two parts; the front part of which is roughly 24cm and can be moved by means of the two screw handles to provide a gap of up to 8.5cm between the two halves. The inside edges of the top pieces have v-grooves to make it a simple task to clamp a work piece between them. In addition, the four plastic bench stops (provided) can be inserted into holes in the worktop so as to provide a means of clamping larger items. When not in use, these bench stops are stowed conveniently out of the way in holes in a cross member.
Practical touches are a ruler, marked in centimetres is inset into the top surface and the shallow metal tray for a pencil and small tools located between the two screw handles.
While this appears to be a very practical portable workbench for the tradesman or the committed do-it-yourselfer, it would be a worthwhile buy. Nevertheless, it is a premium product. Consequently, for others it would be difficult to justify as there are other cheaper (even though not so good) products on the market which could well be adequate for occasional use.
On the other hand, with a recommended price of £129.99 or £111.24 on Amazon it would make a very acceptable present.