Gadgetcare, Frogtape and Gorilla Super Glue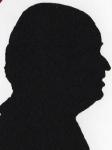 First a name that has been around for longer than me but here with a new and totally different product, the second used for decorating and the third when a quick and fast join is required, all worth a try for their own tasks.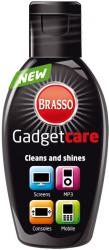 click image to enlarge
Gadgetcare
If I mention the name Brasso it is synonymous with a rather abrasive product to clean brass. Here they have produced a product that does clean but certainly without any abrasive content. In fact I fear for their sales because of the name.
Most notebooks, phones and other small such devices have screen surrounds with a shiny black finish and as these devices are designed to be held they get fingermarks and because the finish is shiny they show up, this of course draws the eye to the screen (normally highly reflective) and then fingermarks on that are also highlighted.
Gadgetcare is a 50ml bottle containing silicone and anti static, it also comes with a cleaning cloth, put the two together and your screen and surround will look like new and with regular care will continue to have the new look.
The items listed on the packaging are Screens, MP3, Consoles, Mobiles, Cameras, Sat Nav and Laptops. Available from the link below for £5.99 or from the second link for a pack of three for £13.22
http://hmv.com/hmvweb/displayProductDetails.do?sku=578545
http://www.amazon.co.uk/gp/product/B0044RRNIM?ie=UTF8&tag=gadge0a-21&linkCode=as2&camp=1634
Frogtape
This is designed to prevent paint bleed when used anywhere where a sharp edge is an essential. Certainly in my tests it gave perfect results. I am not a natural DIY person but sometimes things need painting and the cost of employing a professional cannot be justified.
I tested bulk standard masking tape available from most large DIY chains and Frogtape both were far superior to me trying to keep a sharp edge without anything. The standard tape was okay but when you look closely some paint has got through and the edge was not razor sharp. The Frogtape lines were spot on and very crisp.
Frogtape is available from the link below for £4.59
http://www.amazon.co.uk/gp/product/B004QXKFBQ?ie=UTF8&tag=gadge0a-21&linkCode=as2&camp=1634
Gorilla Super Glue
Around a year ago I reviewed some tape and standard glue from Gorilla, the taped joints are still sound as are the items including my over door handle treated by their glue. Here however is a new product from them a Super Glue.
Super Glue is a product that is unforgiving so certainly keep it away from fingers as it does set almost instantly and it will probably require a visit to A&E to get your digits back to separated working order.
It is designed for metal, plastics, wood and ceramics. It normally comes in very small tubes and indeed I was sent a pack containing two 3g tubes. However for those who need more I was also sent a far larger bottle containing 15g.
The product is designed somewhat thicker than other Super Glue products, place a small amount on one surface and then hold the two surfaces together for around 30seconds and as stated make sure no glue gets onto your skin.
Gorilla Glue is available from the link below for £3.55 for the two 3g tubes. Also available in 15g bottle from the second link for £5.76
http://www.amazon.co.uk/gp/product/B003CT4XSQ?ie=UTF8&tag=gadge0a-21&linkCode=as2&camp=1634
http://www.amazon.co.uk/gp/product/B003CT4XT0?ie=UTF8&tag=gadge0a-21&linkCode=as2&camp=1634