Bosch Drill UniversalImpact 700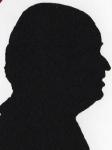 An electric drill is something that has been around for years, I have an old Black and Decker one that was my father's and I think it still works. However in recent years the technology has improved not just in gearing but also in other ways.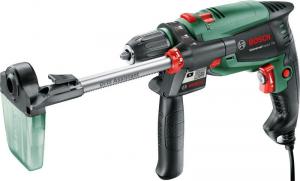 click image to enlarge
Here the latest offering from Bosch, not as some recent offerings are cordless but mains powered so not work time limits between charges providing of course you have mains power.
Before a recent Bosch event I looked back to see it was nearly five years ago when I reviewed the last Bosch Drill the PSR Select, so after that presentation I asked to review a recent drill and that is how I am now looking at the Bosch UniversalImpact 700 this is a powerful beast that has a technology called drill assist for precise drilling and it even comes with a dust box so little or no mess when you drill.
It seems that Bosch now split their range into three categories 'Easy', 'Universal' and Advanced. This is from the middle range.
It is 28.5x24.5x9.5cm and weighs 2.172kilos. The first figure can increase by another 12cm when the drill assist is fully extended.
Bosch is a German company whose arms extend across Europe and beyond this drill is actuary made in Hungary.
It comes with a hard wired 2.4metree lead and UK plug.
This is a keyless chuck model meaning no tightening or loosening the chuck to fit or remove whatever drill you insert, just press the sides of the chuck and press the lock/unlock button. The chuck itself will accept drill bits between 1/16 and 1/2.
It has a motor rated at 530 watts output and 701 watts input.
The maximum drilling diameter varies according to what you are drilling, steel is 12mm, brickwork and concrete is 14mm and wood is 30mm.
Seven pages of the A5 Instruction Manual are in English. Without registration you get a two year warranty but with it you get an extra year so three years warranty for a drill cannot be bad especially when used by a professional.
The drill itself is Bosch green, the back handle is black as is the front support handle and all the bits that do something are red like the trigger drill direction and drill assist control. On the front of the drill trigger is a rotary black control to change the drill speed.
Apart from collecting dust during drilling which will be popular with those who get the job of clearing up afterwards there is also the ability to set the drilling depth so holes are the exactly the correct size.
Another feature is the pre selection of the drill speed which when working on smooth surfaces can be very important to be at a slow enough speed.
However for the home user not having to tighten or loosen the drill bit is perhaps the feature that means all you need is the drill and the bit. The spindle is locked after a single button press.
If you are unsure if this drill is for you why not watch the video on the second link below.
The Bosch Universal Impact 700 is available from Amazon for £77.97 with free delivery.