Canon Mono Laser i-Sensys MF4010 AIO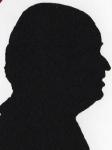 Review controls
A laser AIO has a huge advantage for those needing to print a lot of documents, it always prints at the stated speed. It can copy without the PC being connected and of course the scanner does its work in colour.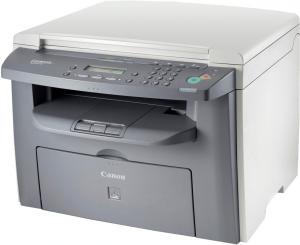 click image to enlarge
The Canon i-Sensys MF4010 is 42x38x30cm and it weights only 12.7kilos. Of course it is creamy grey so may or may not pass the lounge police.
Installation is from two different CD's the driver files etc are on one and these took 50MB of hard disc space. Omni Page (for OCR) and Presto Page Manager together take around 300MB but the whole install is less than five minutes.
The print speed is 20PPM and it does this for as long as there is paper in the open tray at the base of the unit. Having reviewed a number that claim '100 page trays' this has a 250 sheet tray and yes it does have space for that number. One of my tests is to print a 160 page database with three columns of data forty rows per page, these are printed four up. So you get forty pages of four pages in one and this takes just two minutes.
While on the subject of multiple pages 1, 2, 3, 4, 6 and 9 and almost the norm but this unit can print up to 16 pages on a single page. Myself I can't think of a reason to want such small pages but it has the ability. It can at the other extreme do poster mode where a single page can be blown up for a 2x2, 3x3 or even a 4x4 mode.
Just because this is mono it does mean it is no use for photos, the right photo can look great in monochrome.
It has a flatbed scanner that opens landscape. The rear has USB connector back right with the power lead entering back left and the on/off switch left side near the back.
There are a total of 28 buttons just below the scanner lid on the front edge of the unit but unless you are copying without the PC being connected (around 10 seconds per A4 page) you will not need any of them. There is also a two line LCD display. In fact with a decent length of USB lead the unit could even reside in a cupboard. It can reduce to 50% and increase to 200%. Should you wish you can copy up to 99 times from a single press and remember once started your copies will emerge every three seconds.
From off it is ready to work only 5 seconds from switch on. When working within Windows there is a little supplied utility MF Toolbox that has one touch buttons to save to email, transfer to OCR, save to hard disc for whatever you have scanned, save to PDF, scan 1 and scan 2 both for programs of your choice and finally a settings button.
Printing is excellent and as long as you have paper in the 250 page open topped tray pages will be printed at 20PPM. The pages are stored face up and delivered face down to a wide shelf just under the controls near the top. There is also a second tray – above the first store – that can be used for letterheads, envelopes etc.
Scanning an A4 image to the PC from Presto or any other application you may have takes around 20 seconds from switch on. Remember although this is a monochrome printer it scans in colour and the resolution is excellent. Same with text scanned to OCR the early version of Omni Page is perfectly acceptable for those scanning a little. The normal proviso of giving it a good clean – non folded - page will produce excellent output.
If you do not need to print or copy in colour then the running costs of a mono laser are tiny compared to an inkjet, the toner lasts around 2000 pages.
Doing my Internet searches found the Canon i-Sensys MF4010 at a best price of £125.32 including delivery from the first link below. If you can wait seven days they offer free delivery.
http://www.amazon.co.uk/gp/product/B001238B0K?ie=UTF8&tag=gadge0a-21&linkCode=as2&camp=1634
http://www.canon.co.uk/For_Home/Product_Finder/Multifunctionals/Laser/i-SENSYS_MF4010/index.asp?specs=1