Brother Mono Laser AIO DCP-L2520dw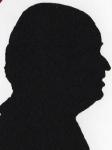 This mono laser can print, scan and copy. It is a quite small unit so would easily fit into a cupboard or even onto a strong shelf, being black or perhaps more accurately very dark grey it is unlikely to pass the tests imposed by the 'lounge police'.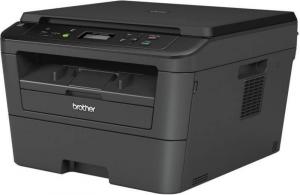 click image to enlarge
The Brother DCP-L2520DW mono laser printer measures 40x35x30cm and just add enough to insert items onto the flatbed so say make the last figure 35cm and that is all the space it requires as paper is delivered once printed within the units confines.
The unit weights 9.7kilos.
If you use USB the cable is inserted back left and the power lead back right.
You may find that you need a USB lead to make the Wi-Fi linking easier as otherwise you have a harder job to make the initial connection.
The top front edge in front of the scanner flatbed has a total of twelve buttons spread either side of the two line hard to read black on grey display, unless the area has excellent light you may need a torch to see what it is saying, why could it not have had a backlight?
Below the buttons is the output shelf where items are delivered face down. Below this the good size paper input tray – 250 sheets - where media is inserted face down.
You need to answer several questions during the software installation and I found it a little long winded including the installation of PaperPort 12 it took 365MB of hard disc space.
This unit can print at up to 26PPM and supports two sided printing for those who desire it.
For the heavier print user the cost of toner can be reduced by purchasing high yield cartridges. The cartridge supplied is stated to produce 700 pages, a standard cartridge 1200 pages and, the high yield 2600 pages. The maximum recommended monthly usage cycle is 2000 pages.
For those wanting to connect remotely it supports a range of cloud print standards including AirPrint and Google Cloud Print. For those still using it Windows XP is still useable as well as all versions since then.
The copying resolution is 600x600dpi while scanning is 600x2400dpi.
I found it reasonable quiet in operation and during my tests I never had a paper jam although I used paper that on occasions was probably heavier than the 'up to 105g/m²'supported. As always with my tests it is a mix of weights and brands.
First page out from switch on I found to be around 15 seconds but this included Windows processing time. The claimed first page out time is 8.5 seconds and I got close to that at 10 seconds from standby.
I was happy with the copying and scanning output and printing was efficient and reliable.
My only query was the two line display which was hard to read unless light was on it. My normal review place was under my desk and here I needed a torch to see the display, even a low power backlight would solve this problem. When used on Wi-Fi you know the unit is on as there is a green LED but if used with USB there is no external indication so you could leave it on by mistake if you cannot see the display and any small power saving is lost if it stays on over a weekend.
The Brother DCP-L2520dw is available from the first link below for £134.40 with free delivery.
http://www.amazon.co.uk/gp/product/B00MPRBF4G?ie=UTF8&tag=gadge0a-21&linkCode=as2&camp=1634
http://www.brother.co.uk/printers/mono-laser-printers/dcpl2520dw