Brother HL-L3270CDW colour printer

Review controls
This A4 colour desktop LED printer is a versatile workhorse that will meet the needs of the small office or, for example, the busy student who needs to print out essays or lab reports.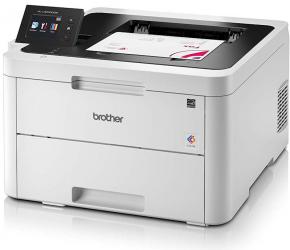 click image to enlarge
Light grey in colour with a black top the printer is 439 mm wide x 461 deep and 252 mm high. It then needs about a further 5cm to the rear for access to the USB, Ethernet and power connections. In view of the fact that, being a colour printer, it has to incorporate colour toner cartridges in addition to the normal black one this is not an unreasonable size and, as it weighs 18.3kg, it has a robust feel about it.
It has a single paper tray which will accommodate 250 sheets of standard paper of up to A4 in size with guides that can be easily adjusted for paper sizes down to A6. There is also a single sheet manual feed which also has adjustable paper guides. Both paper tray and manual feed are conveniently accessible at the front of the machine. The printed paper output stacks neatly on top of the machine. When, however, one is using the manual feed for envelopes it is recommended that the door at the rear of the machine should be opened to provide a straight-through paper path. One then really needs 18cm or more clearance to the rear.
The 6.8cm colour touch screen is located on the left hand side on the top of the machine. It is hinged so that it can be set at a comfortable viewing angle. It is very simple to use and provides all the normal settings such as page size settings for both the tray and bypass, normal/fine quality and "Output Colour" which can be set to Colour, B&W or Auto together with a "toner life" indicator giving a very rough guide of the amount of toner remaining. Other settings include on/off for Eco Mode, Toner Save and Quiet Mode.
When taken out of the box one finds that the four toner cartridges are already in place. The instructions tell one to remove them all and then remove the plastic and foam sheet covering the belt unit. One then removes the orange transit covers from each cartridge and then replaces them in their original locations.
It was then a simple task to load paper into the tray, connect the machine to the mains and, having switched it on, choose the appropriate language on the touch screen. Once this was done the machine took a few minutes to go through its initialisation sequence.
Once this was completed it was a straightforward task to install the software using the disc provided. As usual I used WiFi to connect it to the network as it is more convenient than Ethernet. However, I did subsequently connect it to a laptop via USB. By the way, Brother assumes that users will normally use WiFi so the only cable in the box was that for power.
As one would expect, printing from standard applications was straightforward as was printing from my smartphone using the Brother Print Server Plugin downloaded from the Android Playstore. I assume that it would be equally easy from an iPhone.
As this is essentially a business machine I mainly used it for text documents in black together with business graphics employing colour. Both black and colour print was crisp and intense while half-tones, by the way, also seemed to be effectively rendered.
The makers claim that the print speed is 24 pages per minute. This figure, however, is no doubt achieved under ideal conditions which are not born out in practice even though, for most users, this will not be of real importance as compared to quality of output, cost and convenience.
For example, in practice, it took about 27 seconds to print a single page "from cold". This is not surprising as, with any LED or laser printer, a warm-up period is required to get the fuser up to temperature before it can actually work.
In reality, this delay is far less significant in the real world when printing multi-page documents. For example, while a 20 pages single sided document took 70 seconds which equates to 17ppm, the speed for printing more pages will get closer to the quoted speed. However, when one prints double-sided to save paper (as well as getting documents that take up half the storage space) that same document took 2 minutes 30 seconds which is 8 ppm. It must be pointed out that this speed reduction will occur with all printers and not just this one.