HP Colour Laser M277dw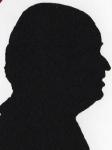 While ink jet printers are still dominant in the colour market lasers can now offer much more and with less of a premium, printing speeds are better and perhaps most important the quality of the printed output is now excellent.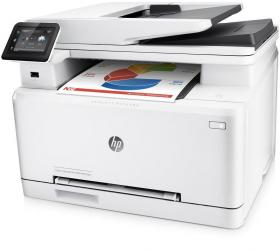 click image to enlarge
It is 42x42x32cm, if using the flatbed you will probably need another 12cm to the last figure the height to insert a book or magazine.
The mains lead enters back right and Ethernet/Fax or USB back left, once attached there is no reason to leave more than ventilation clearance behind as all the controls are on the front.
The on/off button is on the front at the top right, just above this on the top edge is NFC and everything else is either controlled from the PC or from the 6x4.8cm LCD display top left and this can be tilted from 45degrees to around 80degrees for the best touch view angle. The imperial diagonal measurement is 3inches and the Home screen display shows Copy, Scan and Fax, to the left side of this are Back, Home and Help options.
Below the LCD is the paper output shelf it's good and deep so should easily hold around 50 sheets without spilling. The main paper input tray is at the base and is stated to hold 150 sheets, just above this is a manual feed tray. Almost hidden under the LCD is a USB port for scanning to or for printing from.
It matters not if you are printing a short letter or a long document the printing speeds are the same, it matters not if you are printing black or full colour the printing speeds are the same so the four pass technology that use to make colour printing so slow is now gone.
The stated print speed is 19PPM but I could find no A4 claim that is for Letter which normally is 1PPM faster and in my tests I got just over 16PPM printing multiple times the same document.
The first page out is stated to be 13 seconds and I found it to be almost 15 seconds but all still in the same ball park. So a single page document from standby should be printed in around 20seconds.
This unit is supplied with all four cartridges installed I am not quoting pages per cartridge as these are starter cartridges and smaller in capacity than those purchased to replace them.
This is a small colour laser but still weights around 18kilos so it needs a strong table.
Scanning can be initiated from the unit but in my tests you could only scan to a memory stick this way. If you initiated it from the PC then you could scan to the PC without problem.
Copying is of course able to be carried out without the PC being on or even connected and you have a full range of reduction and enlargement all available from the LCD screen.
For those who need it Fax is available.
The install to a Windows 7 PC took 12 minutes and used 380MB of hard disc space.
I was happy with all the documents I printed as well as some rather good full page images. This sort of item is ideal for mixed content such as newsletters and estate agent property details as black and colour work together on the same page.
The HP MFP M277dw is available from the link below for £234 with free delivery.
http://www.amazon.co.uk/gp/product/B00TON9V2C?ie=UTF8&tag=gadge0a-21&linkCode=as2&camp=1634