Kodak 3.2 All In One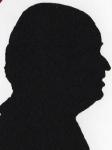 Review controls
This unit is small, in fact so small you think it cannot support an A4 page but it does. The black colour may put some off but as it can connect by Wireless as well as USB the former will allow it to sit out of sight in a cupboard.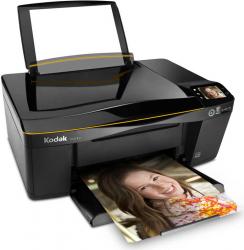 click image to enlarge
The basic measurements are 42x30x16cm but when the paper input tray is raised and filled and the output tray lowered the measurements are 42x52x30cm.
Both power and USB (if used) connect back right and the only obvious control is the on/off button on the right front of the unit. I found the 50 second –from off- startup a bit of a pain when all you want to do is copy a single page. Also you need to remember to lover the output tray manually.
All the rest of the controls are on the small 4.8x3.6cm touch screen which is just below the on/off button. The only other input is a multi card port which is below on the right side of the front. There is no USB stick drive socket.
One thing that can be a problem is that the display is fixed with a small backlift from horizontal and at certain heights this could mean that you have to change your viewing angle to be able to see clearly, not that easy. Around the display are five indicators which are almost invisible unless lit. Startup is somewhat slow but once completed the touch TFT shows Copy Document, Copy Photo, View and Print Photo and below this the state of the black and colour cartridge and wireless if used. There is a right pointing arrow and touch this to display Scan, Forms, Network Settings, touch it again for Printer Settings, Cloud Printing and Printer Maintenance.
While it can be used – via USB – as a conventional All in One unit (print, copy and scan) it can also be used for you to print remotely so from your 'i' device, Android pad or smartphone. It also has the ability to support remote printing via email as once you set it up this unit has its own email address so you can sent it items to print from anywhere. You need it to be switched on as of course does your modem and wireless network.
Kodak use two ink cartridge technology –one for black and one tri colour- and they both need ink in them to print. The cost of what looks a 'basic' unit is somewhat higher than other manufacturers like Canon and Epson as Kodak work on charging less for inks (and give larger cartridges) than most other inkjet printer manufacturers.
Printing first, the nonsensical 200 word document that seems to be the nearest to most manufactures test document came in at 11PPM. The more normal 1500 word document (spread over four pages) came in at 9PPM. The draft print was a little grey – other manufacturers are worse – but normal and best were nice sharp and black but they were somewhat slower. Certainly in draft mode the noise output can be rather excessive.
As for photo printing I produced an A4 full page offering in exactly two minutes, the quality was reasonable rather than excellent. It can produce A5 (15x10cm) in around 50 seconds. Both can be produced direct from the All in One if required.
Scanning gives options and is probably best to set it up from the PC, the provided software is quite good at helping the novice.
Copying from the All in One using the defaults is very easy select the number of copies and colour or black & White. An A4 black & white image took 20 seconds while a colour copy took 30 seconds. You of course have lots of other options when you delve into the touch menus, size from 20% to 500%, copy quality and option to change the shading.
More details of the Google Cloud Print and Kodak email print can be found on the link below, this does include the Kodak ESP 3.2.
http://store.kodak.com/store/ekconseu/en_GB/html/pbPage.cloud_printing_lp
This is not cheap – by other standards – but it is better than basic because of the options above, the ink price could be a value add. The price is £119.99 from the link below.
http://www.dixons.co.uk/gbuk/kodak-esp-3-2s-wireless-all-in-one-inkjet-printer-13878598-pdt.html