Brother Mono Laser Print and Scan DCP-1610W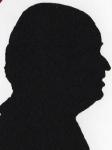 This is a small A4 printer with a scanner lid on top, so small you think it's only a printer but it's a true All In One as it scans in colour and prints and copy in mono. This laser surely has a place in any small office if only for its diminutive size.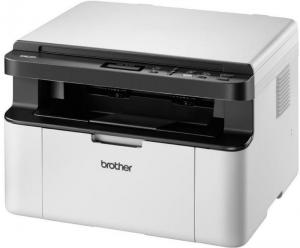 click image to enlarge
The Brother DCP-1610W measures 38x48x25cm with paper and cables attached so that is all the space you need, it's not that heavy so even a wide shelf should accommodate it. Just allow a few centimetres on top of the 25cm height to allow items to be placed on the scanner flatbed.
I have a large database with 7400 entries each entry has three fields, 19 of these entries prints to an A4 page, while the need to print it is rare I do a couple of times a year and to save paper I print these at 3x3 that means nine pages per sheet so 44 pages accommodates the whole database and on a laser like this unit the entries are all clearly readable. The only thing I needed to do is to be there to take them from the delivery shelf to stack them and also to place more paper in the input tray as I find 50 sheets in it does not feed correctly.
I am sure it would if you used all the stock from a single source but I always mix makes and weights to insure a good feed.
I no longer time output in pages per minute as since the directive of a few years ago all manufactures have to you the same standard for testing. So a run of say ten sheets will be at the speed stated. Just remember their tests never include the first of last sheet. So time to first page will be the sticking point and this I found to be around 15 seconds most of which was time for the PC to send data.
This unit works on USB or Wi-Fi a standard install takes around 10 minutes and this includes scanner and OCR software, it took just under 500MB of hard disc space.
There are 11 buttons on the fixed front shelf and a small two line display that can be a little hard to read unless you are above it.
Straight copying is possible but there is not a huge range of options apart from the number of copies. Scanning works well and although this is a mono print unit the scanner is colour and not only quite quick but also gives clear and sharp results without any fuss.
I certainly got 20PPM when printing my database however the claim for having a 150 sheet paper tray I find unacceptable given that I could not load 50 sheets – admittedly of mixed weights and brands – but I cannot see how you would fit 150 sheets into it, maybe next time I meet Brother they can show me how.
The first page out time of 10 seconds I never got but I did get 15 seconds whatever the page was, even with my 3x3 database test.
A nice simple easy to use unit ideal for an office it is available from the first link below for £114.49 including delivery.
http://www.amazon.co.uk/gp/product/B00OKG4F2Y?ie=UTF8&tag=gadge0a-21&linkCode=as2&camp=1634
http://www.brother.co.uk/printers/mono-laser-printers/dcp1610w