ASUS Eee Box (Atom N270)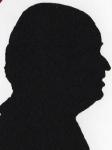 This is a tiny PC (size wise) of course if you have not got all the bits that connect then the price it costs will increase a good deal. All you get is the PC and a digital to analogue converter, so you need to find keyboard, mouse monitor/panel, CD/DVD drive and speakers.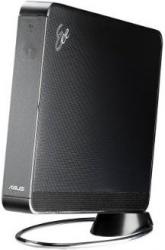 click image to enlarge
The Asus Eee Box B202 measures 22x18x2.7cm and weights 1180 grams. Mine was black and as it is designed to work vertically looks a little like a book. All the connections are on the back and the front with the sides bare and the top and bottom having only ventilation holes.
The rear has (from the top) wireless aerial, DC input, digital monitor/panel connection (as stated above digital to analogue connector is supplied), two USB ports, Ethernet port and Line In. The front has power on button, a single card slot to accommodate SD/MMC and MS, two further USB ports, Line Out/headset and Microphone ports.
It is supplied with an XP Home DVD and a CD with some drivers and utilities. There is a side mounted bracket and a foot that screws into the base and that is what you get. So as stated above hardly suitable for a first PC as you will have to purchase all the other bits, however for those who already have several PC's then most of the other items will probably be knocking around with the possible exception of an external CD/DVD drive.
It comes with an Intel 1.6GHz processor currently (but rumours abound that it will be replaced with a Celeron) 1GB or DDR memory and an 80GB SATA hard disc. The Wireless is 'N' and the Ethernet is Gigabit not 10/100 and the card slot supports SDHC. So for a small form factor PC it's well configured. The supported screen resolution is 1280x1024
The side mounting bracket is to enable you to fix it to the rear of a TV allowing you to use the TV with a suitable fitting. I ran it on the stand (essential to keep air flowing) and it always seemed quite to me so fans were not well in use however my testing period was certainly brass monkeys weather.
Apart from Windows XP Home it comes with Express Gate meaning you do not have to boot into Windows to do basic things like use Skype, looking at Photos or even browsing the WWW. Windows is an icon on the same screen and by default it will go to that if you do not click on another of the options within a few seconds. These extra utilities are powered by Splashtop which is based on Linux but if you want to use Windows do not worry it can just be the opening screen and does not in anyway affect performance.
About the only item easily changeable is the hard disc in a tray that is held in place by two screws. Apart from Windows the only real application pre loaded is Acrobat Reader 8, IE is or course provided allowing you to download lots of free applications for Word Processing etc.
In my tests a full boot into Windows took just over a minute and shutdown from Windows was around 40 seconds. Booting to one of the Splashtop applications took less than 30 seconds.
While the box itself is quite reasonably priced and it does have some nice features including of course its lack of size, if you have to purchase a USB keyboard, USB mouse, a monitor/panel and some speakers then lots of other systems will be cheaper. The idea of fitting it near or onto the back of a TV and using that as the monitor might go down well with some unit you want to surf the web while the other half wants to watch something on TV.
Doing my Internet searches found the Asus Eee Box at a best price of £244.99. I see they also do it in black and the hard disc supplied is 160GB not the 80GB supplied in my test unit.
Should you have all the peripherals required and simply want an extra PC that works great on Wireless or Ethernet for basic tasks then this could well be what you are looking for.
http://www.amazon.co.uk/gp/product/B001KU81S2?ie=UTF8&tag=gadge0a-21&linkCode=as2&camp=1634
http://www.amazon.com/gp/product/B001MYLBJ2?ie=UTF8&tag=gadge0a5-20&linkCode=as2&camp=1789
http://www.amazon.fr/gp/product/B001LJXVX2?ie=UTF8&tag=gadge04-21&linkCode=as2&camp=1642