ASUS Notebook TP300LA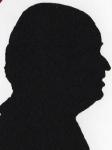 This is a Windows 8.1 notebook but it has an ability that most notebooks do not have, the screen can flip through 360degrees so not only is it a notebook but also a Tablet and because it's a Tablet then it also has touchscreen ability.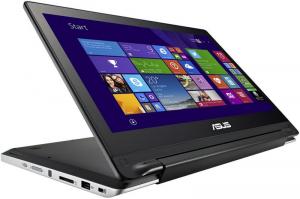 click image to enlarge
The ASUS TP300LA "Flip" measures 32x23x1.5cm and weights a tad under 1.8kilos.
The left side has a Kensington Lock port, USB2 socket, SD Card port, volume rocker and on/off button. The front has three well marked LED's. The right side has a 3.5mm headphone socket, two USB3 ports an HDMI port and DC input. The back is of course clear as the screen can flip totally over it.
The viewable screen is 29.5x16.5cm which gives the notional imperial diagonal size of 13.3inches. The viewable screen is 1366x768. While the back of the screen is black and not that shiny the screen surround is very shiny and therefore shows all the fingermarks.
In front of the keyboard is a 9cm strip with the 10x6cm trackpad being positioned 10.5cm from the left and 11cm from the right.
The keyboard surround is silver grey and shown no marks; the keyboard has 83keys with the alpha and numeric keys being full size.
The unit I saw had an Intel i5 1.7GHz chip with 6GB of RAM. It has a Toshiba hard drive – split into 'C' and 'D' of close to 500GB. However other processors, memory and hard disc or SSD units are available.
Shutdown blanks the screen in around 2 seconds but the LED's remain active for around 20 seconds. Startup was not rapid at around 40 seconds. In my tests in heavy use doing lots of downloads and updates the battery lasted around three hours forty minutes, however in more normal use you could probably increase that by 30%.
A full recharge from empty took four hours.
While Windows 8 has not been received that well if you are going to have Windows 8 then with touch is the way it was designed and certainly a lot easier to use for moving around the screen.
With almost all Apps and software being downloadable the lack of an optical drive is not that huge. If you leave it in standby then the long start up time can be negated.
There was an interruption in my review period of ten days when for a whole range of reasons it was not used and I was pleasantly surprised that the battery had only lost 6% of its charge over that time.
The shiny screen is a pain and with finger marks on it as well as the surround then keeping direct sunlight from it is a must for clear viewing; I would also keep a soft cloth close by to enable screen cleaning.
Now onto the Tablet side at 1.8kilos I feel this is heavy to carry round in use and you have to consider getting light in the correct place, yes it is nice to be able to take Windows programs with you rather than make do with Apps as you would on the lighter Android units.
The ASUS TP300LA is available from the first link below for £589.49 including delivery.
http://www.amazon.co.uk/gp/product/B00OJNI95M?ie=UTF8&tag=gadge0a-21&linkCode=as2&camp=1634
http://www.asus.com/uk/Notebooks_Ultrabooks/ASUS_Transformer_Book_Flip_TP300LA/