Acer Touch Chromebook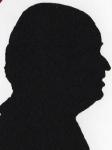 Having recently told you about an Acer Chromebook this has more or less exactly the same specifications but it also has Touch. While touch on a Windows 8 PC gives far more and Touch on an Android or iOS Phone is normal touch on a Chromebook is new.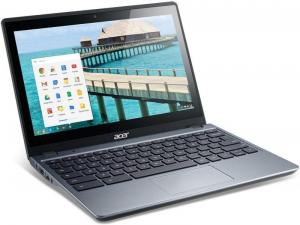 click image to enlarge
On the face of it a roughly £100 premium seems quite an extra to pay for the ability to use a finger rather than a mouse or trackpad to move around a screen.
So a good amount of my review concentrated on what Touch gives you that is harder to get without Touch.
The first thing that springs to mind is the enlargement – or reduction – of web pages by movement of two fingers on the screen, very simple and especially for those with less than perfect sight it saves what you have left by not straining.
Moving things around the screen or window within a screen is far easier by touching with a finger and just moving it to the required place. Both this and the above example can be done without touch but it is far harder, takes longer and indeed requires more knowledge.
The 11.6inch diagonal imperial measurement is accurate as that is the amount of screen you see, I make that point as some devices claim say a 24inch screen and you only see 23.5inches.
As previously mentioned early Chromebooks only worked when you had Wi-Fi. Now things are better but storage on such devices is somewhat limited but this does have two USB ports and an SD Card port to add to the internal amount provided.
In the case of the model here it is 2GB or RAM and a 16GBSSD. The 1.4GHz processor works well and everything I used ran quickly and efficiently.
While this is not a PC and not an Android device in the full sense of the word you can get a good range of Apps from the Chrome Store and as with the Android Play Store a lot are Free but there are annoying omissions. So if there are Apps you use regularly do check they are available in the Chrome Store before purchase.
For surfing the WWW, basic word processing etc this is fine. Getting email is easy as even if you do not use Google Mail or Gmail both have the ability to receive and send messages as if they are from your own service with only a little work to set this up.
So now the $64,000 question is it worth another £100 to have touch. With plenty of splinters to prove the point I sit on the fence. It is certainly easier to do certain things by touch and although it is a different operating system Windows 8 was made for touch use and is certainly a lot easier with touch. Anyone who has a recent phone will have touch and a larger screen requires no adjustment in actions for touch whereas a trackpad or mouse does.
You can read my review of the Non Touch Chromebook published in May on this link.
http://www.gadgetspeak.com/gadget/article.rhtm/754/811166/Acer_Chromebook.html
The Acer Touch Chromebook is available from the link below for £271.13 with free delivery.
http://www.amazon.co.uk/gp/product/B00HX9AJ4S?ie=UTF8&tag=gadge0a-21&linkCode=as2&camp=1634