Acer Chromebook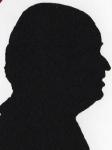 A Chromebook is an option to a standard Android Tablet. It works in much the same way and the biggest problem it had at first launch of not being able to work offline is now overcome although there are currently less options than with other Android offerings.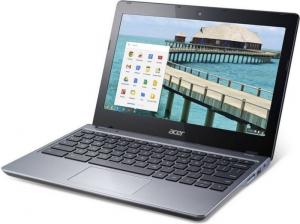 click image to enlarge
This offering from Acer is 28.5x20x2cm the last measurement is at the rear with the thickness at the front only 1cm. It weighs less than 1.2kilos.
Startup is less than four seconds and shutdown only two seconds. Close the lid and open it again for immediate response back where you were. Battery life is well over ten hours even with Wi-Fi being used. It is less if Bluetooth is also turned on.
So far all the news is great, like all recent products you get Cloud space but you can also save local copies via a USB stick.
The left wside has DC input, HDMI out, USB3 port and a 3.5mm headphone socket. The front has two LEDs while the right side has an SD Card socket a USB2 port and a Kensington Lock port. There are twin speakers on the base and these give excellent sound.
The keyboard is a little different still QWERTY but there are no function keys and the letters on the keys are shown in lower case, the total number of keys are 74.
The viewable screen is 25.5x14.5cm. The diagonal imperial screen measurement is 11.5inches. A nice feature is that you can have say video full screen or in a Window as with most systems but here there is an option to have it filling either the left or right half of the screen.
All the time you have Wi-Fi then getting to Google Docs is quick and easy but it is still possible to retrieve files from a USB stick when there is no Wi-Fi.
By default the bottom left of the screen has five icons Chrome (Browser), Google Mail, Google Search, Google Docs and You Tube. The bottom right has a Digital Clock, Battery State and Who you are logged in as with whatever photo you choose. Finally at the far left a three by three matrix of white dots which takes you to the Apps provided screen.
Unlike most Android systems the Settings App is only available from the tray on the right bottom corner of the screen and most options only available once you click the Advanced setting.
Here there are two and a half (4x4) screens of icons more can be downloaded from the Google Store. It is also possible to download from other places.
With HDMI out you can attach it to a larger panel at full 1920x1080.
I liked this unit and you certainly get a full days use on battery. The screen was bright and easy to read even in bright light but of course try to avoid full sun directly onto the screen. This is a vast improvement on the early Chromebook offerings.
The Acer Chromebook C720 is available from the link below for £189.99 with free delivery.
http://www.amazon.co.uk/gp/product/B00GX9HSKM?ie=UTF8&tag=gadge0a-21&linkCode=as2&camp=1634