A Mono Laser All-in-One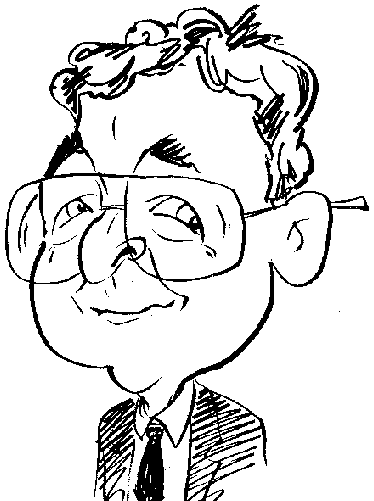 Review controls
Not everybody needs to use colour in their documents. If you fit into this category then a new Brother product might appeal.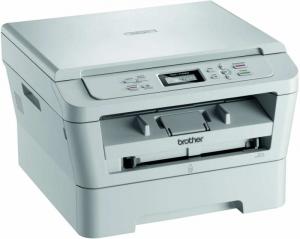 click image to enlarge
The Brother DCP-7055W could not be regarded as a shrinking violet. That is not to say that this all-in-one device with scan, copy and mono laser printer functionality is particularly large but it is substantial. With its base footprint of 370 x 358mm (W x D), the unit expands slightly to 407 x 398.8mm as it rises to a height of 268mm.
Predominately computer grey in colour, the unit features rounded corners and side grip handles for easy movement between locations. Although with its weight of 9.8kg, you might not want to do this too often. The DCP-7055W might not win awards for its stylish appearance but it should fit in with most home – office environments.
Following the standard arrangement of an A4 flatbed scanner mounted on top of a mono laser printer unit, the DCP-7055W is supported by an enclosed paper tray that has a capacity of 250 sheets. Disappointingly this paper tray does not possess a paper level window to let you know when the tray needs refilling with paper. A second paper input option is available in the form of a slot, for when you need to work with a single sheet of paper that could be of a different size or paper type, positioned just above the main tray.
The paper output opening comes next. This output slot has a small flip-out and extendable support flap. This flap hardly looks big enough to perform a useful task but it managed to cope without dispersing printed documents all over the floor.
A sloping area, just below the flatbed scanner lid, holds the unit's control panel. Positioned either side of a 2-inch LCD panel are various buttons to control and make adjustment to some of the unit's tasks. On the left are buttons designated as Options, Number of Copies, Print Cancel and Scan. On the other side of the LCD are the buttons for Menu, Clear, Up, Down, OK, Stop and Start. In addition there is a power on/off switch located towards the rear of the unit on the right hand side.
Setting up this unit is relative quick and straightforward. Already placed in situ are the supplied printer drum and toner cartridge. However before using this product you will need to remove some packaging elements from the toner cartridge and give it a good shake before replacing it in the printer. This Starter toner cartridge provided by Brother should give you 700 pages while any replacement unit will have a greater capacity of 1000 pages.
Brother provides two CDs with this product. One disk contains software while the second disk has PDF versions of the Basic and Advanced User Guides. The Brother software will lead you through the process of connecting the DCP-7055W to your computer and network plus install the MFL-Pro Suite and ScanSoft PaperPort 12SE software.
As the presence of the "W" in this product's model number indicates, the DCP-7055W supports wireless connectivity along with the usual USB option. Step-by-step instructions are provided for your choice of connection for either Windows or Mac. If you opt for a Wi-Fi set up and your router does not support WPS protocol then you will need to use a temporary USB cable as part of the set up procedure.
The A4 flatbed scanner has a resolution of 600 x 2400 optical increasing to 19200 x 19200 interpolated. You can use the scanner to transfer images to your computer or combine it with the mono laser printer to produce photocopies. In tests an A4 page was scanned and printed in 11 seconds. The results were of a reasonable standard.
The print driver supplied with this all-in-one product gives you a choice of three different resolutions when printing. The default setting is 600dpi and this can be changed to either 300dpi or 1200dpi. Brother has rated the printing element of the DCP-7055W as being 20ppm. My tests using a 580-word document filling a full A4 page, produced the results shown in the following table.
Brother DCP-7055W

| 300dpi | 600dpi | 1200dpi |
| --- | --- | --- |
| 19.5ppm | 19ppm | 19ppm |
While I struggled to identify any difference between the 300 and 600dpi pages, there was a distinct darkening of text when using 1200dpi. I would be happy to use any of the three print settings for text documents. Image printing was reasonable but not of the same high standard as text. There are also options to save on paper by printing multiple pages per side or using a manual duplex feature.
Brother has priced this All-in-One mono laser product at £154.80. A replacement drum, which is rated at 12000 sheets, will cost £85.19 while a new toner cartridge has a price ticket of £39.50.
http://www.brother.co.uk/g3v1/g3.cfm/s_page/215760/s_level/36240/s_product/DCP7055WZU1