Brabantia Sensor Bin - Opening with Style!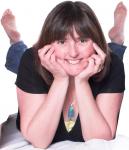 It doesn't sing or dance, but here is a bin that opens it's lid as you approach it - I had to give it a whirl.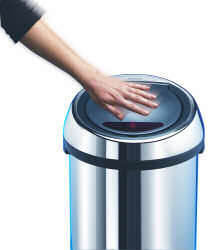 I'm a great fan of Brabantia waste bins. I already had 3 or them in my home before trialling this one. There is something about them that smacks of quality, and any self-respecting yummy mummy has to have one! I'm not sure why, it's one of those brand things - like assuming all decent MP3 players must be i-PODs!
Man handling the lid on your kitchen bin has always been the subject of design changes in the waste disposal line. We've had swing bins, which always have teabag stains, and foot pedals which seem to break or only get the lid half open. Now Brabantia has come up with a new idea, the Brabantia Sensor Bin. The battery operated (4 X AA) lid senses when your hand is hovering above it and in a gentle movement opens it's very wide lid to let you slide your rubbish in. This is extremely handy for scraping leftovers from plates, pots and pans, where you need both your hands. You don't really need it when you are just dropping a sweetie wrapper in. The lid stays open for 6 or 7 seconds after you use and then softly closes.
As with all Brabantia bins it looks beautiful and is durable. It only comes in stainless steel - but this matches most fashionable kitchens these days.
With a 50L capacity, this really is one BIG bin. I'd say the average tall bin is nearer 25-30L. So for a large family this means less changing of bin liners. On a personal note,since I have moved towards taking all my packaging to that wonderful recycling machine thingummy at Tesco's, I only really have non-compostable food waste. For me this means the bin will take a long time to fill up and the bag will get extremely heavy between refills (packaging is light and bulky, food waste is dense and heavy). Also if it takes a long time to fill up, it'll start to smell! However, it is easy to get the bag out, because the lid comes off completely and doesn't get in the way. My normal bin has a removable inside metal liner with handle and the bags always snag.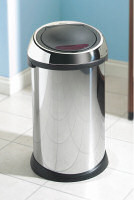 Brabantia does sell it's own bin bags They are somewhat expensive (30 bins liners for £5,95), but equally they are tough and heavy weight - so ideal for the 50L version. Also you can't see the overhang of the white plastic bag. You can get away with regular supermarket bags which will also fit the bin.
From personal experience, although Brabantia bins are probably some of the most expensive you can buy, they are incredibly durable and you are unlikely to need to replace your purchase for a very long time (unless style dictates). For this reason I've marked it quite highly on value for money.
Although, on the surface it seems a bit of a silly idea, I have to say the Branbantia Sensor Bin looks so very stylish and it is somewhat handy for two-handed jobs, if a bit slow for little bits of rubbish. I just wish it came in some smaller sizes as well!
The ideal customer for this: style conscious individuals with many mouths to feed and not enough hands to do everything.
The Branbantia Sensor bin is available from John Lewis online at £139.
http://www.johnlewis.com/Home+and+Garden/Kitchen/Kitchen+Accessories/Bins/755/230364707/Product.aspx
*** A little note on recycling - since using the Tesco's recycling machine, I have found a family can cut rubbish down by roughly two thirds. It really is worth doing.