décor Value Pack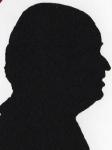 Another of the items I saw at the Homewares show in June. This time a set of five – three of one size and two of a smaller size – that are sold as a value pack and since they arrived have been put into service both in my fridge and my microwave.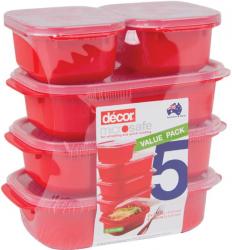 The larger size is 23x14x6cm and stated to hold 900 ml. The smaller size is 14.5x10.5x6cm and stated to hold 375 ml.
They are described as microsafe and have also spent a lot of the time in my fridge. The label holding the pack together states they are free of BPA, PVC, lead and phthalates so they are completely safe for storing food.
While I have yet to use them in my freezer the sentence also on the label states 'after freezing storer let it rest for a few minutes before removing lid'. It also states 'from fridge/freezer to microwave'.
They are also stated to be dishwasher safe.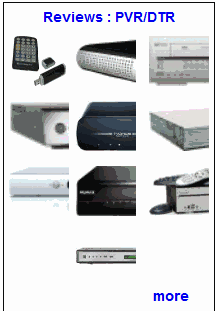 The lids have a 4cm circular red vent in them that should be opened before microwaving. The circular vent is a simple rocker motion press the pimple on one side to open and the indent on the other side to close.
The units themselves are red one piece base and sides the top is a clear slightly rubberised material with the vent in the centre.
The red colour is useful as you are warned in the small print that foods high in oil, fat, tomatoes, curries etc. may cause staining.
I have stored a range of items both savoury and sweet and found after washing that no taste of the previous item stored remains.
Each end the units have 'safe hold handles' that allow removal from microwave safely.

The 'Do Not use Décor Microsafe storers' has only three exceptions, in conventional ovens, on hot plates or for popping corn.
In the time I have them they have been in constant use and the bend off lids remain able to withstand the odd tip upside down without any spills providing the vent is closed.
Two words used may need some translation for UK audiences, certainly they do for my dictionary 'storer' seems to be what Décor call the units, the second is 'microsafe' which I think is a quick way of saying microwave safe.
While other manufacturers may make UK alternatives why should a company from Australia need to show them at a UK event, it seems strange but they do the job I find useful and are certainly better than lots of small bowls in my fridge topped with saucers which is what I previously used for left overs.
BigW in Australia have them for $18 (Australian) which is around £10 UK but you will need to add p&p.
The manufacturers site link is