Samsung L74 Wide Digital Camera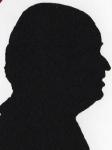 This is totally different from almost any other digital camera I have reviewed as almost all the settings are adjusted from the TFT touchscreen, certainly a first for me.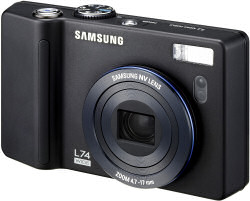 The Samsung L74 is a maximum of 10x6x3cm and weights just on 200grams. It is black and always feels cold as the casing is metal the one strange looking item is the wrist strap hole that looks as if it was attached on the right side as an afterthought.
The rear is dominated by the 6x4.5cm display (this gives the 3 inch diagonal measurement) apart from this the rear has the telephoto/wide angle rocker and two buttons near the base. The rear has tripod screw, the battery cover that also hides the optional SD card and charger connector that cleverly can work from a standard USB port or by supplied 13amp plug.
The sides have nothing, the front has the flash and the lens that extends the width by around 2.5cm when in use. This leaves the top that has the power button, the shutter release and an eight position wheel for various shooting modes. Everything else is controlled from the touch screen.
One thing I miss having an immediate button on the camera for is flash, admittedly it only three taps on the touch screen and is easy to get used to but when most cameras have it available immediately it's different.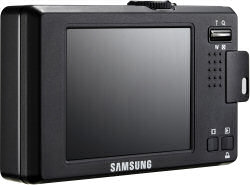 The camera has a 3.6 to 1 optical zoom with the 4.7 to 17mm lens. As with a lot of small digital cameras there is no viewfinder and this can be a problem in strong sunlight. In all other conditions the TFT display gives an excellent view of the subject. Unlike other Samsung cameras I have looked at recently this has a good chunk of internal memory in fact enough to take more than one hundred images at the 7MP resolution with minimal compression. However this would mean using the supplied lead and software to extract images to the PC. With SD cards being so cheap this is an easier and quicker way to transfer images but in an emergency knowing you have available internal storage is useful.
This is described as a 'wide' digital camera and certainly I could view a wider field than with a lot of other similar units. It also has ASR (advanced shake reduction) and this can be useful when taking images on a good zoom also at twilight when flash is not at it's best so a longer exposure is useful. I especially liked the movie mode - an unusual statement for me - it can take 800x600 images and the sound quality - as well as the image - is excellent. Should you be into foreign travel this is one of the range that supports the downloadable world travel guide and with the large high quality TFT it's very readable.
The solid battery is stated to have a life of 100 minutes (around 200 shots) between charges and assuming you have a large enough SD card the 100 minutes should also work in movie mode. I found the 800x600 mode used around 14MB of storage per minute of movie.
Taking still images you have three levels of compression for each of six sizes from 7MP to 1MP so 18 possible image sizes, the screen will inform you how many more of the current image/compression you have. Remember if you do not have a spare card with you that there is internal storage available.
It takes a bit of getting used to unless of course you are totally new to digital cameras, however once used to the touch screen the only drawbacks have been mentioned. This is a nice well featured unit and should you be looking for this size of camera then certainly consider it, in fact add it to your short list as it's images are excellent.
Doing my Internet searches found the Samsung L74 Wide at a best price of £160.23 from the first link below.
http://www.dabs.com/productview.aspx?Quicklinx=4HC6
http://www.samsungcamera.co.uk/product/pro_view.asp?prol_uid=2827&cat_uid=10