A Double Docking Device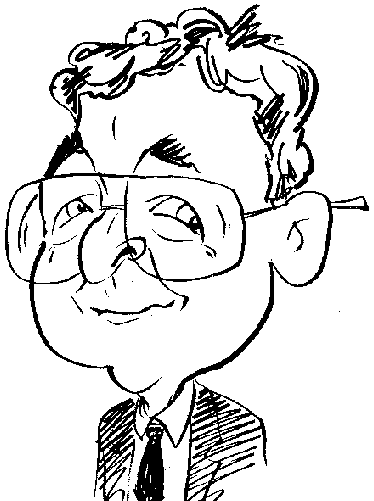 Review controls
Imagine, if you will, a section of interior tubing that has been designed to bend (I was tempted to say "it like Beckham" but resisted) around an obstruction and you will have some idea as to the general shape of the Samsung DA-E550 product. This piece of kit is a Bluetooth, one-piece, audio speaker system with a docking facility.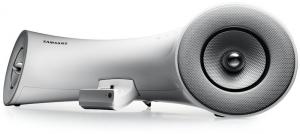 click image to enlarge
Decked out in a high-gloss white coating, the DA-E550 unit has dimensions of 462.7 x 122.3 x 151.8mm (W x H x D) and weighs 1.6kg which does take it out of the range of a portable device. Situated at each end of this curved cylindrical tube are the speaker's cones which display fixed and flexible silver meshes with a silver phase plug protruding from the centre. Arranged near the right speaker is an array of touch sensitive controls for Bass, volume and play/pause. However in most cases I suspect that many will prefer to control this stylish speaker product by using the supplied small remote control unit. The docking unit is situated at the front of the product as it nestles in the bend of the curve. Power and AUX connections are located at the rear of the DA-E550.
This Samsung speaker unit offers three distinct methods of providing the audio that it will distribute to its audience. As mentioned there is a docking facility which remains partially concealed within the body of the unit until some pressure is applied to it. At this point the docking station will slide forward to reveal two docks ready for mounting a device. This does make this facility rather unique when compared to the other products I have looked at that contained a dock.
Not surprisingly, Samsung has taken the decision to cover as many bases as possible by including an Apple dock and its own proprietary dock. If, when you mount your Apple or Samsung device, it feels a little unsecure then do not worry. You have neglected, as I was initially guilty of, to put in place the supplied rubber mat insert which fits over the two docks. The mat is easy to miss as I discovered during my review.
In the past I have often encountered difficulty in getting more recently manufactured docks to recognise the presence of my original iPod Classic. I would be able to charge the iPod Classic but not play any of the music that was stored on this well-used device. However this was not the case with the dock provided by Samsung. It could both recharge and play the content on my iPod Classic. I could also adjust the volume level and mute the sound completely using the remote control. Unfortunately I could not stop a track from playing or cycle backwards and forwards through the available content.
Switching to a more recent iPod Touch gave me access to all the features available from the remote. I could adjust the volume, switch between tracks and make use of the Function button which allows you to switch between dock, Bluetooth and AUX as the audio source plus an on/off Bass feature. This features worked whether the iPod Touch was docked or linked via Bluetooth. Unfortunately, due to the lack of a Samsung Galaxy device, I was unable to check out any differences when using the docks with the two supported systems.
Pairing a Bluetooth device to this speaker is straightforward. You simply need to put your mobile device in search mode and a connection should be established almost immediately. You can then play the music on your Bluetooth device without the need for a physical connection. Audio quality was good with a nice rich rounded sound due, no doubt, to the use of Bluetooth 3.0 which brings a faster performance with greater signal distance.
For devices that do not support docking facilities and Bluetooth, you will need to use the AUX socket. As mentioned this is located on the rear of the device alongside two connections that are covered over and marked as "Only for service". These connections certainly pique my curiosity but I resisted the temptation. You will need to provide the audio cable (an omission which I feel Samsung could have avoided) to make the necessary connection. As can sometimes happen, there was a reduction in the volume level when using the AUX connection.
The speakers built-into this unit are rated at 5W each so giving you a 10W output from this stylish unit. There does seem to be a great price disparity with this product. A check quick on-line revealed a range of prices started from £104.99 rising up to over £170 which does seem excessively steep for a product that does not feature a display to provide mode and settings feedback.
http://www.samsung.com/uk/consumer/tv-audio-video/home-entertainment/wireless-audio-dock/DA-E550/XU