A Mini Disk Camcorder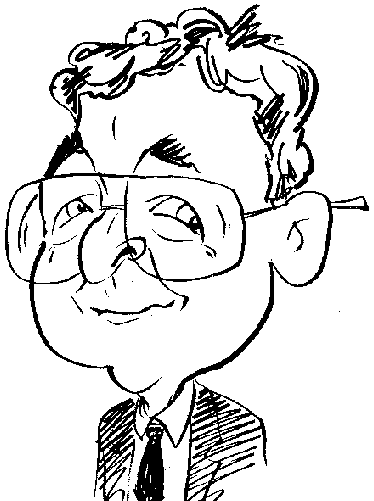 If capturing still images no longer satisfies your creative urge then perhaps it is time you considered a camcorder such as the DC100 from Canon.
The DC100 is Canon's entry level model in the camcorder field of digital video. The kit consists of the DC100 camera, instruction manual, battery pack, power adapter, AC cable, stereo video lead and a SCART adapter for connection output to a television. It should be immediately obvious that this list does not contain any mention of recording media. The reason is simple; Canon has declined to place even a single 3-inch mini DVD-r/RW disc, which the device uses to store content, in the box. Fortunately these mini discs are readily available from numerous stores or online. One of these discs will hold about 20 minutes of best quality video.
Decked out in two-tone aluminium and dark grey, the DC100 weighing approximately 500g and measures 51 x 86 x 123mm. , This camcorder fits comfortably in the hand aided by a strap which can be used for carrying and holding the camera in place during shooting. The mini discs fit into a compartment on the right side of the unit while the left side holds the 1.6 inch display which conceals the rechargeable battery pack. The display can be rotated through a complete circle. There is also a traditional style view finder for those who prefer this method to line up scenes. However before using either of these viewing options, you will need to manually open the lens cover as this is not linked to the power on/off switch.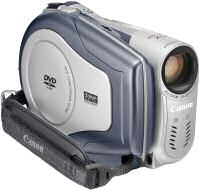 The DC100 can capture video and still images which are automatically stored on the optical media and can be played back on the screen using controls placed along the bottom of the viewing area. Controls are generally located in positions that allow easy access for right handed users - the 10% of left handed users might struggle. The camera's auto-focus feature works well in conjunction with the fairly responsive zoom feature capable of x25. A single press of a button will quickly change the view area from the normal 4:3 aspect to widescreen and then back again.
Other buttons are available to access functions and menu options. A four-way compass-style switch can be used to navigate between items and menu levels plus make selections. Generally the controls were fine and easily accessible however I felt the navigation switch was rather on the small size and a little fiddly for my taste.
Various settings can be applied through the use of pre-set options. Included amongst the white balance pre-sets are daylight, shade and cloudy while scene modes feature portrait, sports, night, sunset and fireworks to mention just a selection. There are also image effects such as vivid, neutral and soft skin detail. Generally the quality of the captured video is what you would expect from an entry-level camcorder - that is reasonable without being outstanding.
What is more disappointing are the limitations placed on both audio and any connectivity options. With the former you are stuck with the built-in microphone that is positioned on the front of the DC100 with no external microphone input available. This built-in microphone has a tendency to pick up any extraneous noise emanating from the camcorder itself. Connectivity is limited to the supplied AV cable as there is no USB option for downloading content to a hard disk. Battery life tends to even out at around 90 minutes from a full charge.
Optical media is not the only missing element with this particular kit. Canon has neglected to include any software to help with the management or editing of your content. Fortunately there are several excellent offering available at a reasonable price to help fill this gap. Available for £219.99 from Amazon :
http://www.amazon.co.uk/gp/offer-listing/B000FVR5CK?condition=new
http://www.canon.co.uk/for_home/product_finder/camcorders/dvd_digital/dc100