Canon IXUS 160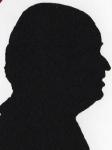 The Ixus is Canon's pocket size camera range, it does however benefit from all the technology that its larger siblings have in terms of technology so do not reject this unit simply because its small enough to fit inside the smallest pocket.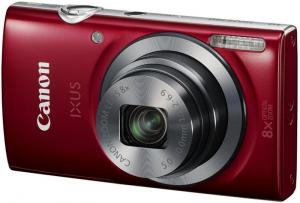 click image to enlarge
The Canon Ixus 160 Compact Digital Camera measures 9.5x5.5x2cm and weights only 126grams.
The right side has a rubberised edge which at the top lifts to reveal A/V out. In the centre is a clip to attach a wrist strap. The base has a tripod screw anchor and beside this the solid battery door and behind this is also where you place any SD Card you use. The left side is clear.
The face has the 8x zoom lens and above and to the left of this the bar flash that cannot be nearer than 2CM to the lens. The top has only the microphone, on/off button and the shutter release which has the zoom control around it.
This leaves the back, first the 5.6x4.2cm TFT screen and to the right of this two pairs of well marked buttons split by the ubiquitous five position joystick control.
Pressing the middle of the joystick brings up four choices, self timer, single or multi shot, image size and video size. There are just four sizes to choose from L, M1, M2 or S. L is 20MP, M1 is 10MP, M2 is 3MP and S is VGA or 640x480. As far as video is concerned there are just two choices 1280x720 or 640x480.
Again a simple choice, start with Auto and see what you get but then as you improve try the Program mode where you can set Light Metering, White Balance and ISO Speed.
Certainly a unit where a first time user can just settle for the camera making the choices and I can assure you that it makes good ones for you, if the shot is gettable it will capture it.
Flash is either Auto or off, sometimes you may think it's not required but it will give a fill to the surroundings so unless flash is not permitted or you know it's not required let the camera choose.
You may think that you will never need a tripod with a pocket camera but 8x optical is quite a lot and if the subject is a long way away such as a landscape or river scene you at least need something steady to balance the camera on to get a good image. There are scenes, a total of 32 with the Smart Auto mode, however with so many to choose from you need a bit of homework to know which to choose for the occasion.
My unit was gun metal grey with silvered buttons but other choices are available. All seem to be available within a few pounds of the price below.
Other features are face detection and an ECO mode a full list can be found with the second link below.
The Canon IXUS 160 is available from the first link below for £83.67 with free delivery.
http://www.amazon.co.uk/gp/product/B00RTGJSS8?ie=UTF8&tag=gadge0a-21&linkCode=as2&camp=1634
http://www.canon.co.uk/for_home/product_finder/cameras/digital_camera/ixus/ixus_160/