Samsung M7 Speaker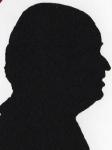 This can work as a single triangular speaker or via a hub form a multi room offering. It can work wired, wireless, Bluetooth or even via an Auxiliary cable. If this is not enough with the right sort of TV you can improve the TV sound with the M7.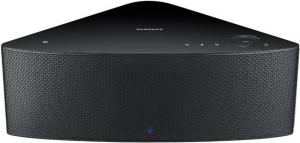 click image to enlarge
They are useable with or without a provided prop. The shape is rather like a large section cut from a round of cheese. Front to back the speaker is 20cm. Side to side it is 39cm. It is 13cm tall. The prop fits in the back near the connections and makes the unit stand firmly at 36cm.
There is a curved cover for the back and remove it to reveal, mains lead connection, Ethernet, Service Port, 3.5mm input and two plus buttons for additional speaker link and WPS router connection.
The sides and base are clear and the top has a circular touch volume control with a small mute button nearby.
I will deal with the TV connection first, this seems to be only Samsung TV's but it certainly worked with the recently reviewed 48inch curved screen offering, just change a setting in the menu and you have far better sound than you normally get with a TV.
Wired of course just means connecting anything that has a 3.5mm outlet to the unit and then this becomes a standard high quality speaker or speakers. As well as an 'i' device I also connected an MP3 player, my audio system via the headphone socket and a couple of other devices and even used it as a speaker output for a PC.
Finally a notebook I am reviewing had its internal speakers ignored in favour of this speak.
For Wi-Fi and Bluetooth I tested several items all worked with excellent quality, as far as MP3 output is concerned I often needed to check that it was MP3 and not higher quality WAV I was listening to.
There are Apps for both iOS and Android available that mean the speaker works with even less fuss than setting a manual Bluetooth link.
So far I have talked about what a single speaker can give you but a pair can be used independently in various rooms or linked together via a hub to give high quality stereo sound.
As often happens with review items the manual had gone AWOL before arriving to me but Samsung do have a PDF copy online and this I downloaded. Linking to a hub is well explained and I then benefited from Stereo.
Of course the hub can connect to your Network so any music stored anywhere can be played through that, the hub and then the speakers.
For those with the latest technology on their Smartphones NFC is supported. Those who have music on Amazon Cloud Player this is supported on these speakers.
It is possible to use one and then add another and link them via a button on the back of the speaker.
It would have been nice if the hub had been built into the unit and therefore saved an additional piece of kit however – even for me – that is knit picking, these are quality speakers and make audio – even MP3 – sound good.
The Samsung M7 speaker is available from the link below for £299.99 including delivery.
http://www.amazon.co.uk/gp/product/B00K6KP7ZW?ie=UTF8&tag=gadge0a-21&linkCode=as2&camp=1634