Audeo PFE 012 Perfect Bass Earphones

Review controls
These earphones are truly impressive. From sharp and clear highs through superbly natural mid-range and right on down to their speciality - a round and resonant bass - the Audeos punch well above their weight in the price/performance stakes.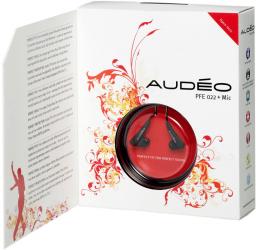 To save reinventing the wheel, allow me to first quote from the official press release for this genuinely excellent product:
"Phonak, the world's leading manufacturer of hearing instruments, has extended its popular range of earphones with a new model designed for music-fans seeking a dynamic, powerful bass sound.
"The Audeo PFE012 Perfect Bass earphones are fitted with specially designed, in-built filters that 'tune' sound waves to boost low frequencies and provide cleaner bass tones. The result is a punchier more exciting output, that doesn't compromise on the overall sound quality.
"Includes three sets of interchangeable silicone ear pieces – each ergonomically designed to sit comfortably in the ear, even after hours of use. As well as increasing stability and reducing cable noise, this extra secure fit reduces unwanted external noise by up to 23 decibels."
Christoph Umbricht, Director of Business Development for Phonak, says "The new Audéo PFE Bass model offers an incomparable bass experience even at low volumes, thus protecting the user's hearing and also providing excellent comfort."
I have now notched up around 24 hours of listening time with the review sample of the new Audeo earphones and I can say that they are very impressive. Whether sitting at home quietly watching a movie on my Archos player or out walking the dog and listening to mp3s in rush hour, these 'phones deliver the goods. From sharp and clear highs through superbly natural midrange and right on down to their speciality - a round and resonant bass - the Audeos punch well above their weight in the price/performance stakes.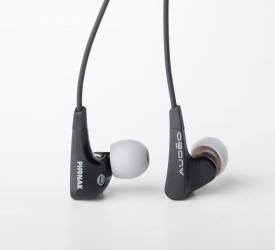 click image to enlarge
The subtlety and understatement of quality earphones does appeal to those of us who shy away from having massive audiophile cans publically clamped to our cranium for the world to 'admire'. The dream of a really balanced and pure sound from this type of device has recently become more of a reality - but not in this price range. Make no mistake, I think that you'd have to pay upward of £120.00 to better this product which retails at around £79.00.
As a musician and recording engineer I have had the pleasure of listening to great music through excellent equipment over the years. Whilst I do not expect everyone reading this to have exactly the same tastes as I in what represents fine musical reproduction, I can say that I'd challenge most listeners to find fault with the natural sound of the new Audeos.
Good speakers and 'phones offer a sound which accurately reproduces the actual nuances of the recorded material. These Audeos do this very well; so much so that some reviewers have underestimated their qualities, stating that the bass sound offered is not powerful enough. There are cheap in-the-ear systems that produce LOUDER but certainly not better bass! From techno to old blues recordings and film soundtracks to orchestral works the Audeos have a truly natural warmth and do not over-emphasise any frequency ranges. If, however, you do like to play with your EQ settings then you will find that it is very easy to get a sound that is tailor-made for you.
The build quality of the Audeo Perfect Bass system is very high. It has a strong and understated look that appeals.You get three different sizes of silicon ear tips to ensure a good fit. The design really does cut out a lot of background noise but you can still just about hear things like train announcements and rogue buses that are about to knock you down. The cable seems unusually tough and a little less flexible than some but this is an advantage when you wear the earphones properly with the wire running comfortably over and down behind the ear. This design also makes it easier to keep the units in place when you are exercising, especially when running.
Compatible with all mp3 players and phones, there is also a slightly more expensive version with a built-in mic. The only negative I can imagine are that some people might think that they are not 'loud' enough. Audeo do make products with the secondary intention of protecting your hearing. I think they offer enough power for virtually anyone and if you want more volume than is on offer here then you will almost certainly be wrecking your hearing!