Hanns-G 22inch HG221A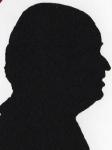 Review controls
A 22inch panel from Hanns-G that looks pleasant enough with its silver/grey surround. It has small powered speakers that are probably enough for beeps and notifications but not really enough for music or for conversations via Skype.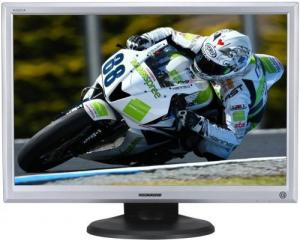 click image to enlarge
It is 51x34x7cm, the latter figure is the maximum width. There is a circular stand (22.5cm) that lifts the panel 6cm from the desk. The screen itself is 47x29.5cm giving the notional 22inch diagonal measurement. Although there is no side to side movement there is good backward and forward movement so providing you are located within about 150 degrees of a central position you should be able to view the screen clearly.
Under an overhang around 16cm from the desk are the three connectors from left to right they are the video, audio and power. The connector is Analogue.
The only controls are under the right side of the base - five push buttons – above this on the bottom edge of the screen surround is an LED green G that lights up when power goes to the unit. Making adjustments are a little fiddly and even when you know which button does what I suspect there will be several aborted attempts before you get the settings as you wish as the same buttons do different jobs dependant on where you are in the onscreen menu.
There are six main screens the top being Brightness, Contrast and XContrast. When it arrived all were at maximum and as I did not have dark glasses to hand my first job was to reduce the Brightness from 100 to 72 and the Contrast from 100 to 54 and to turn the XContrast off. Apart from a few tests later on this is where the settings remained as I had no wish to floodlight my office. This review was conducted during January and as daylight was at a premium mostly with no other light around. I did however check the reflectivity of the screen with office lighting and it was fine.
The second option is input setting that is of course VGA so as this cannot be changed rather pointless in adding it to the menu. The third is Colour Settings, Cloudy, Sunlight, Lighting and User. In each of these modes you can set the Red, Green and Blue settings to get a screen that suits you.
The next is the Image Settings screen where the first choice is Auto Adjust on/off, Aspect Ratio, Horizontal Position, Vertical Position, Clock, Phase and Sharpness all described by a number. The next is On Screen Display Settings where you have Language, Horizontal Position, Vertical Position, Transparency (of menu), On Screen Display Time Out and On Screen Display Colour. Finally System this is Volume (here even at the maximum of 100 you would not need to be more than a few feet away not to hear anything), Mute, DDC/CI (on/off), Factory Reset and Information. Even with the manual I suspect that any adjustments will take a lot more time as the only way of knowing which button you are on is by touch and even when you are working out the push by counting the buttons from the end it is easy to go wrong and end up starting again and getting shall we say frustrated.
I of course forced myself to watch a DVD or three to test out the 1680x1050 display. While this is now standard I still fail to understand why my three year old plus 20inch unit displays 1600x1200 (it is not of course 16:9 but 4:3) while a 10% larger unit can display less pixels overall.
Colour and Brightness quality at the reduced figures mentioned above was fine for me even over a long working day. Scrolling long documents either in Word or on the WWW was fine; with certain units the words seem to break apart but even with fairly rapid scrolling things were still readable here.
My tests also involve some CAD and DTP work to make sure it is useable in an overall role whatever your main area of work is.
Doing my Internet searches for the Hanns-G 22inch HG221A found it at a best price of £111.55 including shipping from Amazon on the first link below.
http://www.amazon.co.uk/gp/product/B001IWLSQE?ie=UTF8&tag=gadge0a-21&linkCode=as2&camp=1634