Altec Lancing speakers for the traveller

The orbit USB stereo speakers are a practical and robust way of improving a laptop or netbook's sound quality. Directly powered from the machine's USB port, without the need for external power, model iML247 from Altec Lancing will be a useful and simple extra for the traveller who wants to enhance the audio irrespective of whether it is for playing of CDs or for using Skype.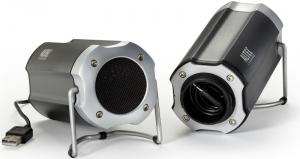 click image to enlarge
Each speaker incorporates a 40mm driver which is covered by a metal grid that will prevent damage in the rough and tumble of travel. The orbit is simple to connect and with the volume being adjusted by means of the laptop's normal audio desktop icon and so gives about 2.5 times the volume of the laptop's built-in speakers and with better frequency response.
When not in use the two speakers, which are stylishly finished in silver and dark grey, clip together back-to-back with a bayonet-style catch to form a single tube 235mm long and roughly 65mm diameter which slips into the provided 'sock' carry bag. Overall, the weight is under 400gm.
The stands fold back against the speaker bodies when not in use. To connect the orbit to one's laptop is a simple task. Having separated the two speakers with a small twist one will find a cable neatly coiled up in the end of each speaker -- the one in the RH speaker connects to the USB port and the other one just links the two speakers.
When not in use, it is a simple task to disconnect them, coil up the cables neatly and clip the speakers together -- just by aligning two red marks and twisting -- and slipped into the carry bag.
The orbit Stereo is ideal for the frequent traveller as it is robust, easy to use, and will pack neatly into one's case with no bits and pieces to mislay. Priced at £39.99 but available on Amazon at £32.39 they merit serious consideration for the regular traveller.