Momentum On-Ear Samba Headphones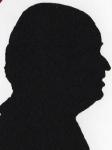 Sennheiser make quality headphones, in fact in my recent visit to a high end audio establishment they were the only brand they stocked and sold that I recognised that was on sale in more normal high street outlets as well as online.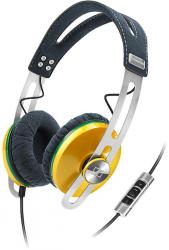 click image to enlarge
These are a set of on-ear offerings that are designed for Apple devices but I can assure you they work perfectly well for those of us not able to afford the Apple brand.
They are lightweight at only 165grams. The maximum dimension from base of earpieces to the top centre of the headband is 20cm. There is just over 5cm of adjustment on each earpiece.
The leather headband is sueded and split into two linked arms there is just enough padding for those you are follicley challenged.
Now onto the part I am less sure of the earpieces are bright JCB yellow with a green band before the dark blue padded earpieces.
I have been using these for several weeks and still find the colour somewhat glaring but I am no fashion expert and knowing Sennheiser I am sure their experts have said yes.
The padded earpieces are oval at 7cm high and 5cm wide. As stated these are on ear offerings which I tend to prefer as your ears can still breathe whereas with over ear offerings they tend to sweat.
It has what seems to be a hard wired single lead of 1.4metres long with the 4cm long in cord volume adjustment and track shifter phone answering device is 20cm from the left ear. However when looking in the box further down my review period I thought what is the point of the 3.5mm to 3.5mm 1.4metre lead without the ability to make calls and advance tracks and then checking the instruction sheet I see the lead is not hard wired and is just a tight fit.
At this point the penny dropped when I linked the name Samba with 'Special Edition' stamped on the box and a certain event currently on in Brazil.
So what of sound quality I am often criticised for only mentioning this when it is inadequate. Here I was more than happy with the sound emerging from everything I connected them to that had a 3.5mm outlet which is my audio system several phones and even a humble MP3 player as well as my one detour into territory with an iPod.
You have a hard sided zip up case inside the proper cardboard box and a soft drawstring bag inside the case so these are very well protected headphones.
The Momentum on-Ear Samba Headphones are available from the link below for £169.95
http://www.johnlewis.com/sennheiser-momentum-on-ear-headphones-with-mic-remote/p585447