USB 'ReadyBoost' capable flash drive comparison

Published Jul 18, 2008 Author
petew
Review controls
Flash drives have traditionally been fairly slow devices, but like all things to do with computers performance continues to improve over time. Here we compare two high-performance USB flash drives from Kingston and from Imation.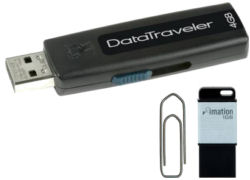 From Imation we're looking at the new "Atom Flash Drive", available in 1G, 2G, 4G and 8G bytes sizes. Our test sample is 1Gbyte. This is pitted against the Kingston Data Traveller 100, available in the same sizes. Both devices boast support for Microsofts 'ReadyBoost' technology - intended to improve the performance of todays bloatware by using the frash drive as a cache for your hard-disk.
The key characteristic required to support ReadyBoost is performance and so for comparison I've run some simple benchmarks on the two devices as well as with an older 'standard' USB drive.
Tests
To gauge and compare the performance we carried out 4 very simple raw data speed tests on each of the three devices (Imation, Kingston and the control 'standard' USB drive :
Copy a 400M byte file onto the USB drive
Copy the 400M byte file from the USB drive onto the system hard-disk
Copy a directory structure comprising 290 image files in 4 folders (total 350M bytes) onto the USB drive
Copy the directory structure in (3) back onto the hard disk
Kingston DataTraveller 100
Of the two devices reviewed here this one showed both good read and write performance. You can see from the table below that write performance was almost twice as good as the standard device for large files and around a third faster for the 290 file copy.
Read performance for both the large and small files was very good - for the large file getting close to twice the performance.
To put these figures into perspective though, the maximum practical throughput for USB 2.0 is around 40M bytes per second and the modern SATA hard drive is capable of a sustained output of around 60M bytes per second - this flash device is still a long way short, particularly in being able to offer a good caching mechanism for Windows.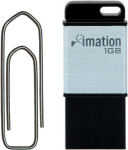 Imation Atom Drive
This is a tiny device - you can see from the picture it's not much larger than a paperclip measuring 12 x 32 x 4.8mm (LxWxH). This is probably the limit in size for a practical device. You are provided with a loop by which to attach it to your keyring. The device slides right into your USB slot - no need for a protective cover.
Despite it's size the device can pack in a full 8G bytes of storage (almost 2xDVD on something not much larger than a postage stamp.
Peformance was somewhat disappointing. As you can see from the table below, although write performance was roughly comparable with the Kingston product, read performance was very poor - out-performed in both our tests by our old vanilla USB drive. Interestingly read-performance is the key charactistic required to operate are a cache (ReadyBoost). Whereas Windows refused to use our vanilla drive - it was quite happy to use the Imation despite it's poorer performance.
On the plus side, the Atom includes password protection. This is somewhat fiddly to configure, but once you've gone through the pain you'll have split the available flash space into two portions - public and protected. By default you'll see the public partition. An application on the USB device itself can be run to enter the password, at which point the public partition disappears and is replaced by the private ares. Note - the drivers provide password protection only, the data is NOT encrypted, so while this is a useful feature for a few personal files don't consider copying the whole of the housing benefit database onto it and popping it into the post!
Microsoft ReadyBoost
Anyone familiar with Windows (and not many people aren't!) you'll know that each generation requires ever more processing power, ever more memory, ever more disk just to do what the previous generation did. With each generation the software gets bigger. While memory and processing power increase with each generation - unfortunately improvements in disk technology tend to lag. Often what makes your PC run slow is the time it takes to load data from that huge hard-disk you have whirring away.
The assumption behind ReadyBoost is that a solid-state flash drive can be made faster than a mechanical disk and so copying frequently accessed software from the hard-disk to the flash memory should reduce those annoying waits.
Both the products reviewed here support ReadyBoost. I initially tested the Kingston drive allocating 900Mbytes to the cache. As expected ReadyBoost offered no noticable benefit on our test system that has high speed SATA drives. In fact some activities were actually slowed down by using ReadyBoost. A Windows feature definitely to be avoided except on the odd laptop with very slow drives!
Standard USB drive
Imation Atom Drive
Kingston Data Traveller 100
Capacity
500M
1G, 2G, 4G, 8G
1G, 2G, 4G, 8G
Password protection
-
YES
NO
Manufacturer details
-
Imation
Kingston
Pricing
-
1G: £11.53 - 4G: £20.71
1G: £4.22 - 8G: £19.94
Performance (1-5, 5 high)
-
2
4
Value (1-5, 5 high)
-
2
4
Strong points
-
small size, password protection
performance, price
Performance - Mbytes per second (% increase over control)
400M file write
3.1
5.3 (170%)
6 (194%)
400M file read
10
9.5 (95%)
19 (190%)
290 file directory (350Mbytes) write
1.9
2.6 (136%)
2.6 (136%)
290 file directory (350Mbytes) read
9.7
9.45 (97%)
17.5 (180%)
Summary
The Imation Atom drive has the benefit of size - it will allow you to carry a huge amount of data around with you unobtrusively - possibly attached to your keyring (the disadvantage of something this small is you'll invariably need to attach it to something bigger to avoid loosing it!). It is however expensive - for now at least. Unless you need the small size there are better solutions available including the Kingston Data Traveller.
The Kingston DataTeveller 100 is fast and very cheap. It's not the smallest USB device in the world, but for many it will be small enough. it's not going to weigh your pocket down and it's not so small it'll fall though small holes!
The ReadyBoost argument for either device (and for Windows itself!) is something of a red herring. While I've only tested ReadyBoost on a desktop machine with fast drives, it's hard to see a USB 2.0 flash device providing significant benefit even on slow devices. The fundamental tennet of caches is that they are faster than the thing they are caching!