Eye-Fi from camera to mobile

Despite smartphone and tablets now having cameras with more and more megapixels, the results cannot match those of a good quality "bridge" camera and certainly not the performance of a digital SLR both of which have a range of advanced features including optical zoom. Eye-Fi Mobi, provides the best of both worlds as it enables one to use Wi-Fi to transfer camera images directly to one's smartphone or tablet.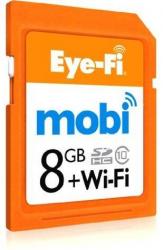 The Mobi SDHC Class 10 cards are coloured orange and clearly state "mobi" and also their capacity – 8, 16 or 32GB. They can just replace an existing SD card in a camera and create an 802.11b/g/n Wi-Fi hotspot.
Having downloaded and installed the app from www.eye.fi/mobi via the Android Play Store or the iOS app store onto the smartphone or tablet and then switched on the camera one will be prompted to key in the mobi activation code to "pair" phone and camera. Once this is done, when taking a photo the full image file is then transferred in just a few moments, over an encrypted link, to one's phone where it be saved in the Eye-Fi folder and shown as a thumbnail. WPA2 security is employed with a password which is unique to each mobi card. As well as image .jpg files, the system also supports a range of video files including .mpg, .mov, .flv, .avi and .wmv subject to 2GB file size limit.
If the mobi is unable to transfer the image, because the phone was switched off or out of range, images will be copied across at the next opportunity. The claimed range is 90ft outdoors and 45ft indoors. However, I found that, even though I could achieve transfer over more than a 20ft line-of-sight distance indoors, I did not have much success through walls and floors. This, I don't think, will be a major limitation in practice for most people.
Additional Eye-Fi technology has been incorporated in over 300 cameras from well-known brands. These cameras can detect when an Eye-Fi camera is being used and most of them will stay powered up until the file uploads have been completed as well as having an on-screen icon showing transfer activity and having the ability to enable/disable the Eye-Fi card Wi-Fi from the camera menu. Some camera models also have an on-screen icon that identifies which photos and videos have already been uploaded. Specific compatibility information is provided on the eye.fi web site.
Available in 8, 16 and 32GB versions Eye-Fi mobi cards are available on Amazon with prices starting at £32.99 for the 8GB version. This is appreciably dearer than standard SDHC cards. While not everyone will consider that this technology will offer them any benefits, there will also be situations where it may be considered money well spent to be able to transfer good quality camera images to a smartphone or tablet with the minimum delay or inconvenience. After all, it is easier to check image quality on a 10 inch tablet rather than a small camera screen while there are occasions where it will be important to be able to minimise the delay in actually uploading images which may need to then send onwards from one's phone.