Kingston MobileLite G2

Published 2 Dec 2009 Author
petew
A put-in-your pocket memory card reader from the memory specialist Kingston that supports SD and Memory Stick formats.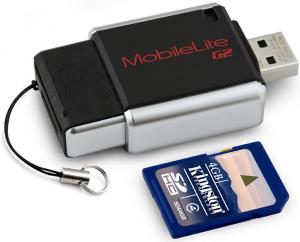 click image to enlarge
While a good number of computers these days do come with built-in memory card readers this is by far from being universally the case. Here in the office my year old desktop machine for instance has no such card reader.
While it's still common to see 17-in-1 card readers available, the industry has thankfully, for the most part, standardised on a couple of card formats, although with variations. By far and away the most popular is the SD format - with variants such as microSD popularised by ultra-mobile devices such as phones. The other is the Memory Stick from Sony - only of course because Sony wouldn't be seen dead using an industry standard they haven't invented!
This contraction of available formats has enabled Kingston to provide an almost universal memory card reader in a size not much larger than USB memory sticks. From the photo you'll see that a slightly fatter core has a USB connector at one end and memory-card slots at the other. Covers at each end slide out to protect both card and USB connector.
There are actually two slots. The wider takes either an SD format card or an Sony MemoryStick ProDuo. The other takes a microSD card without the need for an adaptor. When you plug the reader into your computer you get two separate drivers, one for each slot. With both slots populated it was very easy to copy information between both. Speed will usually depend on the memory cards themselves rather than the card reader - limited of course by the USB2.0 transfer speeds.
The fatter body of the card reader means that on some cramped computers you may need to use a USB extender cable, thoughtfully provided with the product. This simple cable allows you to insert the card reader a convenient few inches from your computer.
You can buy the Kingston MobileLite G2 card reader by itself around £6 or complete with various size SDHC cards from 4GB through to 32GB.
Information is available on the Kingston site from the link below: