PhotoFast iFlash Drive HD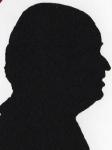 Moving files to and from a portable Apple device has always been a faff, now there is a halfway device you copy them to, and then, transfer by drag and drop to the PC and by downloading an App, from the iFlash Drive to your 'i' device.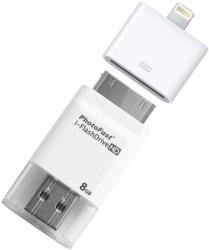 click image to enlarge
The PhotoFast iFlash Drive HD measures 4.7x2.5x1cm and its total weight is 8grams.
These devices are available in different capacities – the one sent to me was 8GB – one end is a USB plug the other end is the standard Apple 30pin plug. For those with the very recent new connector size there is an adapter available.
Transferring files from the PC is as easy as drag and drop just like to any USB stick.
Transfering from an 'i' device is not difficult and they can via a small piece of software be transferred to the device.
Transferring files from the device to internal storage on the 'i' device is also possible you just need to get used to the software downloaded from the Apple store.
What you need to get your head round is the difference between 'Local Storage' which is your 'i' device and 'External Storage' which is the PhotoFast iFast Drive when plugged into your 'i' device.
Understand the difference above and you can overcome the Apple demand that everything needs to be moved using their software only.
This means that your files need not be manipulated by Apple in any way.
To give an example I downloaded some MP3 files from the Internet to my PC, transferred them by connecting the PhotoFast iFast Drive to a USB port. Connected the PhotoFast iFast Drive to my iPod Touch via the 30pin connector, the software starts as soon as the connection is made, the files are available to play via 'External Storage', select the file or files and you can then copy or move them. Move them and they are then on 'Local Storage'. They are then playable with or without the PhotoFast iFast Drive connected.
While the above may sound a little elongated it is certainly a great deal easier than getting involved with the Apple software on a PC.
If you have only one 'i' device then I can see that the 'Apple Way' works but of course you can only have one device linked to one PC so files that are in different places mean a lot of thought before a 'sync' can be conducted.
The actual software comes up as an 'App' called iFlash Drive. This has three sections on the one front screen, Contact Backup, Storage, and Cloud.
I think backing up your Contacts is something we all should do and here it is easy.
I have dealt with the two sections of Storage.
Cloud in the case here means Dropbox as I have an account so information can be moved to and from that also. Once signed in you are asked to allow iFlash Drive access to your files and warned that this is full access so it can even delete files. Files are then playable on your 'i' device.
If you are on Wi-Fi this can be at little cost but do remember that large video files transferred over mobile can be expensive so do the transfer at home (or the office) and leave them on the PhotoFast iFast Drive.
I counted 33 different formats that the drive knows about including Excel, MP4 and WAV so not just MP3.
Now if there was a device that worked with iPod Nanos….
The PhotoFast iFast Drive is available from the link below for £68.11 with free delivery.
http://www.amazon.co.uk/gp/product/B00C1YIDBG?ie=UTF8&tag=gadge0a-21&linkCode=as2&camp=1634