Hitachi Life Studio Mobile Plus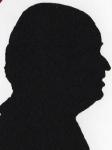 A novel design for this hard drive has it sitting up in a cradle, it can be removed if you wish, however this unit has a decent front end of software that offers more than just a hard drive and even then there is a little something extra.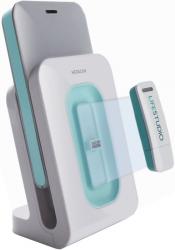 click image to enlarge
I have reviewed several 500GB drives and even a couple of 750GB ones which although they come with extra power leads they have not needed them, here even when the drive is out of the cradle it can need that extra boost.
The main drive has a small partition which is seen as a CD enabling it to have software concealed on it. More on this software in a little bit. The usable part of the drive is 465GB with the other GB taken by pointers.
Mount it in the cradle and instead of it lying flat on your desk it sits near upright – a small back tilt but the white access light is clearly visible. The front of the cradle holds the 'extra' a 4GB (3.78GB available) stick drive.
This stick drive can be removed and inserted into any USB port and used like any other, it has a detachable cap. However it connects to the front of the cradle magnetically (with cap on) and is seen as a separate drive unit.
The cradle with drive inserted is 14cm tall 8cm deep with stick attached and USB lead fixed in the rear of the unit.
The width of the unit is the same as the main drive 8cm and the drive alone is 1.2cm thick its height is 12.5cm.
Assuming your PC has the puff (I do not recommend using it on a hub) one USB port should be able to power it.
I did find a couple of older Windows XP units that objected to the drive it lit up saying it had power as did the stick drive and that was given a drive letter but the CD part and the main drive were not, technical support were not helpful.
However on Vista and Windows 7 systems even with only a single USB to draw power from it performed correctly. My tests included a tower system, a desktop, several notebooks and even a couple of Netbooks so it must be a disliking for XP.
There are four models in the range according to the Hitachi site two with the 'Plus' or the USB stick and two without.
Now onto the software which is an added plus with this unit. First the USB stick, whenever you place it in the main unit it Syncs with it so files you have changed that day or week while out and about are automatically updated with the main unit and visa versa.
Sharing is this years in thing and or course this unit can bring together pictures, videos, music and documents into a single interface to aid location.
Backup – yes I know everyone hates it – but this can do so locally and online so files on the Life Studio should be safe.
A nice idea but as currently the drives only seem to be USB2 and a maximum size of 500GB maybe there is more to come.
Doing my Internet searches found Hitachi Life Studio Mobile Plus at best price of £64.93 Inc free delivery.
http://www.amazon.co.uk/gp/product/B003Y7TYLM?ie=UTF8&tag=gadge0a-21&linkCode=as2&camp=1634