Two Great CD's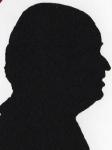 Review controls
Often a tune is inexorably linked to one musician (even if they have not composed it) their style is also unique, so when one pianist can play several styles this is special. Also here the latest offering from a UK musician who annunciates every word, great.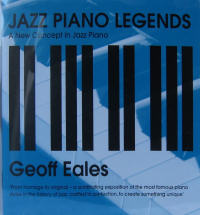 Geoff Eales Jazz Piano Legends
Sixteen tracks each well known by different master pianists all played by one man. On at least half of these you would certainly think it is the original master playing them. However this is not an exercise to simply mimic the original. Geoff Eales adds his own touch, so it's not one man trying to play a well known tune in the style of it is that persons style but with Geoff adding his own input.
Some of these tracks were originally recorded 60 or more years ago, however these interpretations were recorded recently by Geoff Eales on Piano, Roy Babbington on Bass and Mark Fletcher on Drums. Geoff has worked in the past with the BBC Big Band as well as the likes of Henry Mancini, Nelson Riddle, Andrew Lloyd Webber and also great singers like Rosemary Clooney, Jose Carrras, Lesley Garrett and Kiri te Kanawa, so his output is not solely Jazz.
Of the two other musicians, Roy Babbington spent twenty years playing with another great Pianist Stan Tracey, Mark Fletcher has played regularly at Ronnie Scotts for the past twenty years.
So if anyone who knows just a little about Jazz was told Night Train, Misty, Take 5, Tea for Two, Jitterbug Waltz, Lullaby of Birdland, Round Midnight, Bouncing with Bud, Waltz for Debby, Maple Leaf Rag, Song for my Father, My Song, Single Petal of a Rose, Armando's Rhumba, Search for Peace and Watermelon Man. I suspect that given a list of sixteen pianists they would immediately manage to match at least half to the appropriate track, then with a little thought maybe two of three more without problem. Eventually ending with only a couple unmatched.
The sixteen names are Herbie Hancock, McCoy Tyner, Chick Corea, Duke Ellington, Keith Jarrett, Horace Silver, Scott Joplin, Bill Evans, Bud Powell, Thelonius Monk, George Shearing, Fats Waller, Art Tatum, Dave Brubeck, Errol Garner and Oscar Peterson. This however is not just about sixteen great tracks that are known as tunes played by sixteen masterful pianists, it's about one pianist making you think of sixteen great pianists but still admiring the playing of that one Pianist Geoff Eales.
Distributed by Proper Music. £12.99 from http://www.jazzpianolegends.com/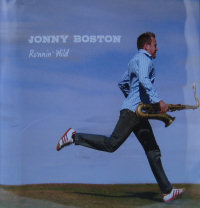 Jonny Boston Runnin' Wild
Another great UK musician, this time a superb tenor saxophone player who also sings. As a rule I do not like male singers but Jonny is an exception as he also plays his saxophone and he annunciates every word, so even if you know the tune well there will probably be some new words as the original singer did not sing them clearly.
Here he plays with one of the UK's greatest Hammond Organists Pete Whittaker, an excellent Guitarist in James Fenn and John Perry on drums. If you get a chance to see them live take it as they are excellent not only on CD but live as well.
Here there are thirteen tracks most are well known, Jonny has long been an excellent composer and his earlier CD's illustrate this. Here however he interprets such well known offerings as Cheek to Cheek, The Way You Look Tonight, Dancing In The Dark, Blue Skies and Pennies From Heaven. There is however a version of one of his best known saxophone only tracks Cheesecake. One that the younger ones might know is a Lennon and McCartney composition Across the Universe.
All the musicians get their chance to shine and this is certainly a CD that will remain on my shelves but it will not gather dust. Sheldon003 from www.jonnyboston.com £12. Also there are his earlier CD's What's Waiting and Alexander and you can also hear samples there as well or visit his page www.myspace.com/jonnybostonquartet Finally something for the ladies he is rather good looking, you can see a number of photos on both his site and the myspace one, does he have it all!