Roberts unologic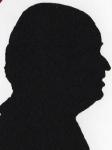 Review controls
A slightly different DAB/FM radio from Roberts. Smaller than most but still capable of giving a large sound from the built in speaker. The big difference is that you do not need to be tethered to a mains lead as it can work from batteries.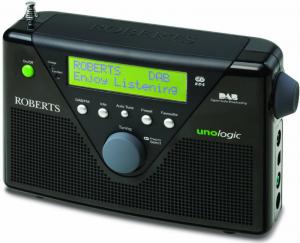 click image to enlarge
The Roberts' Unologic DAB/FM radio measures 19.5x12x7.5cm. These measurements are maximum to encompass the tuning knob on the front and the volume control on the right side, the width and thickness are around 1cm less for both everywhere else on the unit.
It weights a tad under 700grams with 4x'AA' batteries inserted, yes it runs on 'AA' batteries not 'C' cells as with most. The good news continues as while you are using it from the mains with optional rechargeable batteries inserted it will charge the batteries as soon as you stop listening and just turn the on/off button to off.
The eight piece rod aerial extends to 73cm and I found I got good reception in every room and of course outside when on batteries. An inset handle at the top of the rear makes moving from room to room very simple.
The optional 4'AA' batteries fit into the back behind a flip down door, there is a small switch to flip between Alkaline and Rechargeable batteries, when running on mains (without any batteries) this should be in the Alkaline position.
The left side is clear. The right side has the (grey) volume knob below this a column of four connections, earbuds/headphones, USB (for updates), Auxiliary Input, and DC input. The base is clear as is the top apart from the rod aerial.
This leaves the face towards the top in the centre is an 8x2cm two line (16 characters per line) display black on grey without backlight and blue on yellow with backlight on. Two the left of this two LEDs green for battery charge that flashes while charging and red that comes on when the batteries become nearly discharged. To the left of this a small green rather sensitive on/off button. Under the display a line of five buttons DAB/FM, Info, Auto Tune, Preset and Favourite, finally below these a large (grey) round tuning knob.
On first switch on use mains power and fully extend the eight piece rod aerial. It will Auto Scan and it quickly found 61 stations all worked well in my area. As far as FM is concerned you start at the bottom of the frequency band twist the tuning knob clockwise to go up and twist it anti clockwise to go down. So you will initially need to know the programs frequency, once you find it some will change to the stations name others will not.
The Auto Tune will search up the band until it finds the next station with a decent signal and then stop, press it again to progress. When you switch wave bands it will return to the station you last listened to on that wave band.
There is DRC (Dynamic Range Control) on DAB useful for making quieter sounds more noticeable for easy listening.
There is a twenty eight page User Guide, I have seen better, some things are well described some are glossed over. The favourite button will allow you to store one FM and one DAB station and you will always be returned to that when you press it. There are Presets (unlimited number according to the manual) and setting them needs close scrutiny.
You can listen in stereo with earbuds/headphones. There are no alarms or for that matter no sleep timer or clock.
Doing my searches I found the Roberts Unilogic available from Amazon at a best price of £56.08 for White and £53.95 for black.
http://www.robertsradio.co.uk/Products/DAB_radios/unologic/index.htm