Roberts ZoomBox 3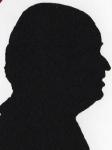 I first saw this almost a year ago but the agency that looked after Roberts at the time seemed reluctant to send it out for review. Since a new agency has been appointed I am now catching up on requests made at last year's 2017 Christmas In July event.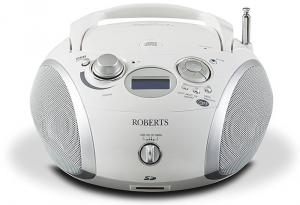 click image to enlarge
It is round but a little squashed at 25cm from back to front and the same side to side but only 15cm tall. Both sides are the pair of speakers, my test unit was cream and so the grill covering the speakers was white.
At the bottom of the front is a SD card insertion point. Above this a small round knob that has four positions, from left to right, USB, SD, CD and Radio. Above this a small white on blue 3.6x1.4cm two line display. To its left a Deep Bass Boost push button, just to its right a manual turn volume knob and just above the display a red LED to denote power is on. To the right of the display a very busy area first a round area divided into four for back, forward, stop/end and play/pause. Just to its right the on/off button and finally three touch buttons, down, up and mode/menu/info.
The top of the unit is the flip up lid for CD, to its right an eight piece rod aerial, on the left of the top entry point for earbuds/headphones and towards the back of the top a carry handle.
Just behind the rod aerial on the rear USB socket and below this a flip switch for DAB/FM, on the opposite side the two pin mains lead entry. The base flips back to allow six 'C' batteries to be inserted so you do not have to rely on mains power. The one drawback is this makes the unit far heavier to carry around. It is 2.26 kilos with batteries and 1.86 kilos without.
Everything I have described is well marked and setting things like Presets for DAB/FM stations is well explained in the 36 page A5 booklet that comes with the unit.
The power output from the speakers is 2x1 watts but gives a sound adequate for an average room; the bass boost makes a small increase in the bass level.
The stated battery life is between 25-35 hours. There are a total of forty radio presets available, twenty for each of DAB and FM. Apart from CD-R it will also play finalized CD-RW discs.
It can also play MP3 files on SD Card or USB sticks.
What it cannot do is record to any media. Also I would have liked the knob on the front to have wider spaced intervals between USB/SD/CD/Radio which for those with less than perfect sight would improve changing modes.
Of course to be able to record it would need a clock so it could record radio for you while away.
I liked this strange shaped unit, sound quality was acceptable and listening to both DAB and FM radio was fine providing the rod aerial was raised.
For less than £80 this was a decent unit.