Roberts Ortus 3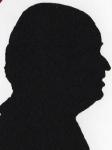 It's been a couple of years since I have been offered a Roberts DAB radio to review. While I have looked at offerings from other manufacturers the Roberts units have not been available. This I assume was down to the excellent PR lady I have been in contact with for some years moving on.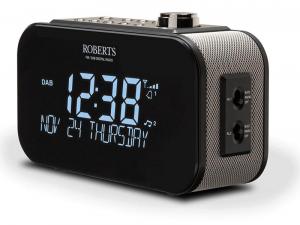 click image to enlarge
This is a DAB/FM Alarm Clock Radio, it is 19x11.5x6.5cm but you will need another 3cm behind it as the power lead sticks out by that much.
Instead of the more normal rod aerial this uses the wire type offering it is 60cm long and emerges from back right it should either hung down or be stretched up especially for the initial scan of DAB stations, in my area it found 96 stations.
This is a mono unit but you can listen in stereo via headphones or earbuds. The single speaker is on the back of the unit and while this means the sound is radiated away it still works well and the advantage is that you get a bigger speaker and therefor far better sound.
Also on the back is a column of four inputs, Auxiliary In, Headphones, USB for charging other devices and the DC input.
The base has a micro USB connector but this is just for firmware updates. The right side has slider switches for the alarms, so two switches both Buzzer/Radio/Off. Whereas most units have you stretching out a hand to silence the alarm this requires a slightly better aim but has the advantage that you do not have to wait for it to go off.
The top has two rows of silvered push buttons which are clearly marked in white on black and explained in detail in the well-illustrated 44 page A5 User Manual.
Tuning for DAB should be a matter of moments and setting up presets should not take long as you have ten available. FM is a slightly longer task as manual tuning means you need to move sequentially through the wave band but again you have ten presets available.
One button on the right side is bigger and that lets you move one station at a time through the stations.
The front is just a display, when in standby it will show the digital clock in 3cm tall numerals. Below this the day, date abbreviated month and year in a single string which is 10cm long and 1.3cm tall so clearly visible even if your eyesight is not 20:20. It is also possible to dim the display.
When on the display shows DAB/FM the digital clock and below that a range of items including the station and or date string. Volume can be shown as a number 1 to 32.
I mentioned above that the main speaker is at the back but sound also emerges from the grill at either side.
As stated there are two alarms, there are also configurable snooze settings and sleep timer as well as what they call a 'nap timer'.
This is a nice compact unit with rather good mono sound and all the add-ons you are likely to want from a clock radio.
The Roberts Ortus 3 is available from the link below for £89.99 in either Black or White.
http://www.currys.co.uk/gbuk/audio-and-headphones/audio/radios/roberts-ortus-3-dab-fm-clock-radio-black-10164517-pdt.html