Roberts Stream 217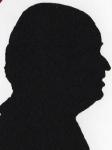 Having recently told you about Robert's new 'entry level' Internet offering, it seems only correct to move up the scale a little to what they call a DAB/FM/WiFi Internet Radio with Music Player and this even comes with Spotify Connect built in.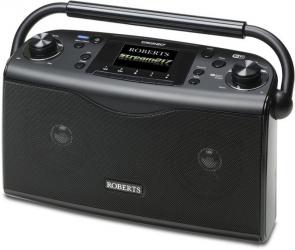 click image to enlarge
It is 26x17x9cm disregarding the handle that can slot back behind the unit and the 75cm six piece rod aerial.
My unit was a mixture of matt and shiny black with the front dominated by the centre of the 6cm stereo speakers shining through the grill.
Both sides and the bass are clear. This unit can run on 'C' cell batteries but it is of course mainly a mains unit.
At the base of the back is the entry point for batteries. Towards the top is where the rod aerial resides and between the two a line of four connections for Ethernet, USB, Headphones and Auxiliary input, finally tucked to one side the DC power input.
This leaves the sloping top to tell you about. At either end is a big round knob the left for Volume and the right for Tuning and Selecting. In the centre a 6x4cm display screen either side of this are columns of four well marked circular buttons and under the screen a line of five rectangular buttons.
Plug in the mains lead and extend the rod aerial, a few seconds later you are asked if you want to start the setup, this is done via the right round knob and first it wants to connect to the Internet, if you have plugged in an Ethernet cable its done, for Wi-Fi it finds available choices and the easiest way to enter the passcode is via a button on most routers once complete you can continue setup with the logic being to let it tune into available DAB stations in my area it found 74 stations quite quickly. I also get it to set time via DAB but you can use Internet or other sources, this will only be required if power is removed from the unit as in standby I found it kept perfect time.
There are Alarm and Sleep options for the former it might be as well to have batteries inserted as otherwise a power cut during sleep could mean you will be late for work. For those who feel glued to their chair there are available Apps in both the iOS and Android store to act as Remote Controls.
The Music Player should work with whatever computer you use providing you have UPnP available.
There is an eight mode equalizer and while the front facing speakers only output 2watts each you will think they have more power than that and the sound is clear and crisp. For those addicted to radio there are five presets for each of DAB, FM and Internet Radio. While I find it easy to use standard tuning for DAB, FM takes a while to move from one end of the waveband to the other and with Thousands on Internet stations to choose from even if you have narrowed the choice by genre.
The Roberts Stream 217 is available from the link below for £144.07 with free delivery.
http://www.amazon.co.uk/gp/product/B008VPFG82?ie=UTF8&tag=gadge0a-21&linkCode=as2&camp=1634