Samsung Q1 Ultra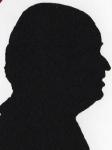 A tablet PC that weights 800grams and has a true 8 hours of battery life, it has a keyboard – of sorts – as well as the touchscreen one. Anyone who needs a lightweight PC it's here.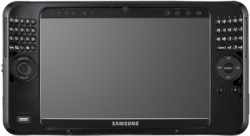 click to enlarge
First the all important dimensions it is 22.5x12x3cm. The screen is 15.5x9cm and this displays at 1024x600 and should you not be a fan of the stylus then there are mouse controls either side of the screen.
It has a full copy of Windows XP (Tablet PC Edition) service pack 2 installed. I found around 30cm away was the ideal viewing distance away. It works just as well with a finger as the stylus.
So a quick tour of the unit and you will see it is a full PC. The left side has an on/off slider complete with hold button, AV station viewer button and wrist strap anchor point. The top has earbud socket, USB2 port and SD Card socket, there is a perfectly adequate speaker and shutter button for the built in camera.
The right side has the security key (works the same way as Ctrl-Alt-Del) the charging input next is a cover that hides the Ethernet socket, another USB2 port and external monitor output. The base has the storage point for the stylus. The back has an easel type stand that works quite well allowing access at 45degrees.
This leaves the front, there 20 alpha keys in four rows of five to the left of the screen and 19 keys to the right also in four rows these can - with practice work with thumbs but they are only .5cm and do need a push so no touch typing here. Below the 19 keys on the right side is a five position joystick with the left and right mouse buttons below. Of course should you be using this in an office you could attach a mouse and keyboard and these could be Bluetooth to avoid using the two USB ports. The external monitor port is capable of displaying 1600x900.
There is 1GB of Ram and the hard disc is 40GB (37.2GB actual). A raft of extra software is provided by Samsung some specifically for Tablets and indeed Microsoft provide a Touch Pack for Tablet PC's that is also there.
The camera I mentioned above is actually two cameras one looking at you viewing the screen ideal for VOIP and another at the back of the unit to capture both still and movie images. There is also Navigator GPS software installed.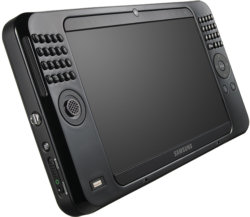 click to enlarge
Apart from Ethernet you can also connect at 54mbps using wireless and indeed I have taken advantage of this using various free access during my test period. Using Internet Explorer on the move is fine, writing emails with Outlook Express is hardly rapid unless you have very nimble fingers.
The eight hours (actual 487 minutes least in use) battery life was using normal settings so no chance of going blind looking at a faded screen.
Being a tablet there is the handwriting module and this is probably the easiest way to input lots of information, you can of course record a conversation with the built in pinhole microphone. Remember although this is a tablet it is also a PC.
The only thing missing is a CD/DVD and I attached one via USB that worked fine to install software, you could also use it to do backups.
Doing my Internet searches found the Samsung Q1 Ultra at a best price of £844.95 from the first link below. Studying the specifications given there the model they are selling has a 60GB hard disc.
http://www.amazon.co.uk/gp/offer-listing/B00111W5KA
http://www.samsung.com/uk/consumer/detail/detail.do?group=itbusiness&type=notebookcomputers&subtype=qseries&model_cd=NP-Q1U/000/SUK