Dell XPS 13 9365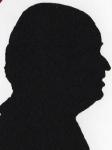 This is neither large nor heavy so ideal to use when out and about. A black sandwich with silver grey slices, it is a Notebook and a Tablet running the latest version of Windows 10 V1803. Three sides of the screen have tiny edges the forth the bass is the less than usual place to find the webcam. There are other surprises like only USB 'C' ports.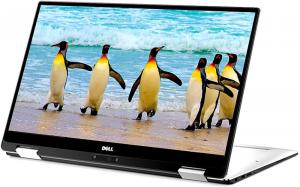 click image to enlarge
The Dell XPS 13 "2-in-1" convertible laptop measures 30x19.5x1cm at the front and 1.5cm at the back it weighs 1212 grams. The diagonal imperial measurement is 13inches
As this folds back on itself the rear is clear of any ports. The left side has USB 'C' and headset 3.5mm socket along with a button to show the current battery state in 20% increments. The front is also clear apart from an LED to show when the unit is on. The right side has a USB 'C' port, micro SD card port, Kensington Lock port and an on/off push button. Finally the base has two 25cm long rubber strips to keep it clear of whatever you place it on.
The keyboard is 82 keys with the alpha and numeric keys being full size. There is 1cm clear behind the keyboard with close to 2cm clear either side and an 8cm strip clear in front with the 10.5x6cm trackpad being mounted centrally.
Looking at the Dell site seems to show the unit as supplied to me 256GB SSD, 8 GB RAM but with an i5 Intel Processor rather than the i7 shipped to me. One week into the review and the product with the exact specifications I was sent appeared.
The boot time is 13 seconds and shutdown a very rapid 2 seconds.
Charging is a two part cable the first mains plug to three pin connector is .8 metres and then 1.8metres three pin connector to USB 'C' plug. I also managed to input power via a USB to USB 'C' lead but only at a trickle.
Talking of power you should get around 8 hours between charge and by default it will enter power saving mode when down to 20% battery.
QHD + is the possible screen resolution which is 3200x1800 rather than the more normal 1920x1080 on the unit I had, 3200x1800 on a 13inch screen would be interesting I must to see one such another time of course a big premium will apply.
The Dell site says a USB 'C' to USB adapter is supplied but not in the unit sent to me but as I had recently reviewed one such device I was able to work with it when transferring files I store for tests on machines.
One of the USB 'C' ports is enabled to work with Thunderbolt drives that have the ability to transfer data up to eight times faster, so that takes care of those very large files that the smaller SSD supplied might be cause of the occasional problem.
As a Notebook this is a nice light system, as a Tablet it is responsive, yes it should have had a USB 'C' to USB dongle and I was able to use as it should have been supplied with what I had. I do not have a Thunderbolt drive so I could not check how this might help for those with mega large files but Dells claims are there.
The Dell XPS 13 9365 as supplied to me is available from the link below for £1149.
https://www.dell.com/en-uk/shop/cty/pdp/spd/xps-13-9365-2-in-1-laptop/cnx36511