Bush DAB (TR4DABBLK) Digital Radio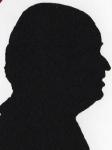 Review controls
With not only the better reception but also certain radio stations only available on DAB now could be a great time to purchase a DAB radio, here one with a retro feel.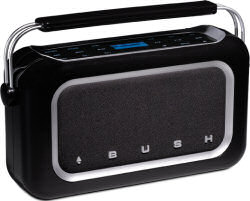 On first glance this looks like a Bush radio I owned very many years ago however do not let that turn you away from what it has to offer. To begin with it is stereo where a lot of DAB offerings only have a single internal speaker.
It is a mains/battery offering and is 31x10x20cm to the top of the carrying handle. It has a 50cm five piece rod aerial. The main difference between this Bush offering and other DAB radios - apart from the cosmetic - is that all the controls are on the top and are touch operated.
Apart from DAB where all the stations are named there is also the FM band where line two says FM Radio and line three the frequency. It would have been nice to have the station name (it is possible as I have seen it on other such units) rather than the frequency. In both DAB and FM the top line shows a range of small symbols as well as a digital clock.
There are a total of six columns of three words each performing a task. After three columns there is a small 4x1.5cm three line display blue/white on midnight blue that is easily readable even for the scrolling text broadcast by some stations to denote the track being played, up to fifteen characters displayed.
Tap any of the eighteen buttons and all the button stay illuminated for around 20 seconds after this only standby button stays alight.
There is a 24 page manual but for basic tasks anyway it should not be required. Maybe to set alarms or to store presets but probably not much else.
You can store up to ten (one or two button taps) presets. For some reason I had no problems storing DAB stations but on FM whatever I did they reverted to the top of the waveband. However a quick look in the manual showed how to restore it to factory settings (wiping all saved presets) and once I tried again all the presets on both DAB and FM stored correctly.
It has a base boost and this makes a good difference to the sound produced. While this unit will never fill an auditorium for a normal lounge or bedroom it is fine.

While this unit has (DRC) dynamic range control and on DAB has the ability to display (DLS) dynamic label segments (PTY) program type, multiplex name, time and date, channel and frequency, signal information and signal error rate.
There are no alarm or sleep timer options. One reason for this could be that it can be run on batteries (6x'C' cells) however I only used it on mains so I cannot comment on battery life.
The unit I was sent was black with grey trim and I think it looks quite smart. Pure Digital have something called a ChargePAK that enables it to work on their rechargeable battery pack that automatically charges any time you connect it to mains power, certainly a way to reduce battery costs.
Two minus points are the lack of alarm and sleep timers and also the FM stations not being named. Plus points it's easy to operate has good sound quality and looks nice.
Doing my Internet searches found the Bush DAB (TR4DABBLK) Digital Radio at a best price of £44.93 from Asda stores.
http://www.bushdigital.co.uk/BushDigital.co.uk/html/default.htm